Adidas's World Cup, So Far: Record Sales and One Ugly Bite
By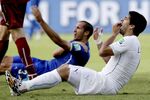 Herbert Hainer, chief executive officer of Adidas Group, held a press conference in Germany on Tuesday to brag about the company's sales, so far, from its sponsorship of the 2014 World Cup. Adidas, he said, would "definitely achieve" its goal of selling $2.7 billion in soccer gear this year. He went on, in a not-so-subtle jab at rival Nike, to proclaim the company's "outstanding position as the clear No. 1 in football globally."
On the other side of the Atlantic, at the Estadio das Dunas in Natal, Brazil, Uruguayan striker Luis Suarez was about to create a marketing headache for the brand. During the 79th minute of the must-win match for Uruguay, Suarez apparently bit Italy's Giorgio Chiellini on the shoulder. To make matters worse for Adidas, many of the company's World Cup promotions depict Suarez with his mouth wide open.
FIFA announced today that it was investigating the incident, and Adidas says it will wait for the results of that investigation before deciding what to do.
Trying to anticipate the actions of FIFA is a risky move, but soccer's governing body could come down hard on Suarez. If confirmed, the latest bite would mark the third time Suarez has attacked an opponent with his teeth. He did it in 2010 as a member of the Dutch club Ajax and again last year as a member of the English Premier League club Liverpool. The first bite brought a seven game suspension; the second, 10 games. Suarez was also banned for eight matches in 2011 for racial abuse of an opponent.
It is unlikely that Adidas would drop Suarez entirely, but a condemnation and a halt on marketing activity featuring one of the world's best players seems probable.
For all the headlines it will generate, the Suarez scandal should amount to little more than a nibble of Adidas sales. The official apparel supplier to FIFA counts Lionel Messi, Robin van Persie, Arjen Robben, and Karim Benzema among its stable of stars—all still playing bite-free soccer in the tournament. Adidas supplies jerseys to Germany, Argentina, Mexico, and Colombia, among others still in contention.
At Tuesday's event in Germany, Adidas said it was on pace to sell 8 million jerseys altogether, up from 6.5 million at the 2010 World Cup in South Africa, and 14 million "brazuca" balls, up from 13 million. It didn't mention its mouth guards.