Japanese Politicians Forget They're Supposed to Be Feminists
By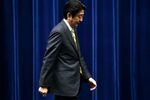 Japanese Prime Minister Shinzo Abe is an unlikely feminist. In a conservative, male-dominated society, he's the leader of the conservative, male-dominated ruling party. Yet since winning a landslide victory and becoming premier in late 2012, Abe has used his bully pulpit to advocate for women's rights in the workplace. Japan needs to embrace "womenomics," he argues, and he has called on Japanese companies to have women in 30 percent of their leadership positions by the end of the decade.
"Unleashing the potential of Womenomics is an absolute must if Japan's growth is to continue," he wrote in a Wall Street Journal op-ed last September. "Japan is a country with a shrinking population caused by a seemingly intractable decline in its birthrate. But Womenomics offers a solution with its core tenet that a country that hires and promotes more women grows economically, and no less important, demographically as well."
Apparently Abe's Liberal Democratic Party colleague Akihiro Suzuki wasn't paying attention, though. On a day when Abe was trying to trumpet the success of his economic reform program, Suzuki's sexist heckling of a female lawmaker in the Tokyo city assembly was dominating the news. Ayaka Shiomura, a member of the opposition Your Party, yesterday held a press conference to talk about the way Suzuki and other men in the assembly subjected her to verbal abuse last week for daring to stand up and call on the government to help infertile women and single mothers. "You are the one who should get married as soon as possible," jeered one of her colleagues. "Can't you even bear a child?" shouted another.
Suzuki has tried to limit the damage. Yesterday he apologized to Shiomura and said he has left the LDP, the Japan Times reports.
The uproar is especially embarrassing for Abe, since it overshadows the launch of a new campaign to push through the much-heralded, and much-delayed, reform agenda of his economic revitalization program. So far, Abenomics has focused on fiscal stimulus and monetary easing to devalue the yen and end Japan's long deflationary funk. He has also tried to stabilize the country's troubled finances by raising the consumption tax in April to 8 percent, from 5 percent.
The moves, according to Abe, have been successful. "We have reached a stage where there is no deflation," he said in an interview with Bloomberg News yesterday. While skeptics predicted a big slowdown in the economy following the tax increase, Japan so far seems to be handling the shock well enough to resume growth without falling into a recession. "This was an extremely difficult time for management of the economy, but I believe we were somehow able to overcome it," Abe said.
Yet the deep, structural reforms that constitute the "third arrow" of Abenomics remain to be implemented. The plan includes cutting the corporate tax rate, now about 35 percent, to less than 30 percent. Abe also wants to liberalize restrictions on trade, labor, and agriculture while opening the market to legalized casino gambling. The cabinet approved his plan yesterday.
The furor surrounding the sexist taunts of Shiomura has overshadowed the news. Fortunately for Abe, he has spent so much of his term speaking out in favor of women's rights that he doesn't have to worry too much about fallout from the frat-boy antics of local LDP lawmakers. And with his popularity in a new poll down to 43 percent, the lowest since he took office, the uproar might actually help his cause by reminding a skeptical population that, unlike some old-school Japanese politicians, Abe's on their side.
Before it's here, it's on the Bloomberg Terminal.
LEARN MORE