5 Reasons Thad Cochran Beat the Tea Party
By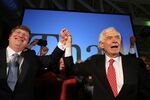 Tuesday's Mississippi Senate runoff between 76-year-old Senator Thad Cochran and Tea Party insurgent Chris McDaniel is the latest reminder of why politics can be so fun and interesting to follow. Just about everyone expected McDaniel to win walking away. He seemed to have all the momentum, energy, and grassroots support. But when the votes were tallied, Cochran was the victor.
This was surprising because Cochran seemed like precisely the kind of politician who'd be easy prey for Tea Party insurgents: old, out of touch, and a pillar of the establishment. But the fact is, he ran a much better runoff campaign than McDaniel, who appeared to expect an easy win.
Here are five reasons Cochran managed to save his bacon:
Pork Matters. Recognizing he had no chance of out-Tea Partying his opponent, Cochran did the opposite and ran as a staunch defender of the federal government—at least insofar as it benefits Mississippi. And it benefits Mississippi more than it does most states. Residents get $2 in tax spending for every dollar they pay to the federal government, which supports major employers like Ingalls Shipbuilding, Stennis Space Center, and the Keesler Seabee Base. "Without Thad Cochran, we could lose some of these important facilities," former Senator Trent Lott said in an ad he cut for the incumbent candidate.
People Like Him. Cochran is a rare breed, an unpolarizing politician. In an era when voters tend to strongly like or dislike elected officials based on partisanship, Cochran has been a notable exception. According to a PPP poll, his approval rating is positive among Republicans (47-36) and Democrats (44/40) in Mississippi.
He Turned Out Black Voters. When it became clear that he wouldn't prevail among Republicans, Cochran's Hail Mary strategy was to try and expand the electorate by bringing in Democrats. He touted his votes supporting traditionally black colleges, as well as nutritional support for poor families. This appears to have worked:
He Pandered Like Nobody's Business. As the Jackson Free Press pointed out, Cochran had sharply different messages for black and white audiences:

Brett Favre is Still the Big Man on Campus. The graying interception machine and former Packers quarterback played college football at Southern Mississippi and evidently still holds plenty of sway. This ad he cut for Cochran with the Chamber of Commerce had the desired effect:
Before it's here, it's on the Bloomberg Terminal.
LEARN MORE