Climate Forecast: A Heat More Deadly Than the U.S. Has Ever Seen
by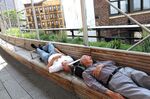 It's not the heat. It's the humidity. And the U.S. is on a path to regularly experience a deadly combination of the two the likes of which have only been recorded once on planet Earth.
That's one of the findings in a report published today called "Risky Business," commissioned by some of America's top business leaders to put price tags on climate threats. For example, by the end of the century, between $238 billion and $507 billion of existing coastal property in the U.S. will likely be subsumed by rising seas, and crop yields in some breadbasket states may decline as much 70 percent.
But perhaps the biggest way Americans will physically experience global warming is, well, the warming. By 2050, the average American is likely to see between two and more than three times as many 95 degree days as we're used to. By the end of this century, Americans will experience, on average, as many as 96 days of such extreme heat each year.
The report breaks down "extremely hot" days by region to show what a child born in the past 20 years can expect to see over a lifetime.

The rising heat will strain the U.S. energy system, according to the report, as people run their air conditioners longer and utilities require more energy to keep their systems cool. Roughly 95 gigawatts of new power generation capacity will likely be needed over the next 25 years -- the equivalent of about 200 average coal or natural gas power plants -- at a cost of about $12 billion a year, according to the report.

As time goes on, the situation worsens.

By the end of the century, the Southeast will see an additional 11,000 to 36,000 people die each year from heat-related conditions as the region swelters under as many as 130 more days of extreme heat, according to the report. In the milder Northeast, where the thermometer hits 95 degrees just 2.6 days a year today, the number will rise by between 17 and 59 days.
"It's going to get a lot hotter in the United States over the next 100 years, and worse going forward," said Alfred Sommer, Dean Emeritus at Johns Hopkins University's School of Public Health, who spoke in New York today at a presentation of the project's findings. "Montana summers will soon be the same as New Mexico today."
The additional heat will reduce worker output by as much as 3 percent, according to the report. That may not sound like much, but it would be a far bigger productivity slowdown than any of the 20th century.
The most extreme manifestation of this heat is calculated using a measure of the most stifling conditions the body can endure. It's called the Humid Heat Stroke Index, or HHSI, which takes into account both heat and humidity. At an HHSI level of 95 degrees, the human body can't keep its core cool enough for survival, even at rest.
Human skin must remain under 95 degrees Fahrenheit in order to maintain the body's healthy core temperature of 98.6. Sweat evaporation helps cool the skin on blistering hot days, but when it's humid outside, the sweat can't evaporate. Even at an HHSI of 92 degrees, core body temps can reach 104 degrees, the limit.
An HHSI level of 95 degrees has been recorded just once, in Dhahran, Saudi Arabia, in 2003, according to today's report. The outside temperature reached 108 degrees, and the dew point hit 95 degrees, making it life threatening to go outdoors.
If humans continue to pollute greenhouse gases on the current trajectory, the average Midwesterner could see an HHSI of 95 degrees two days every year by the end of this century. By the end of next century it will be impossible to remain outdoors without a cooling system for 20 days a year.

Today's report was funded by Hank Paulson, the former head of Goldman Sachs and Treasury Secretary under George W. Bush, by former hedge fund manager Tom Steyer and by Michael Bloomberg, former mayor of New York and founder of Bloomberg LP. Backers also include former U.S. Treasury Secretaries George Shultz and Robert Rubin.
"The risks are much more perverse and cruel than we saw with the financial crisis, because they accumulate over time," Paulson said in New York today. Business leaders are sometimes accustomed to moving slowly on long-term risks. In the case of global warming, he said, "a business-as-usual approach is actually radical risk-taking."
More from Tom Randall:
Follow @tsrandall on Twitter for more hot things.
Before it's here, it's on the Bloomberg Terminal.
LEARN MORE