USC to Offer 4-Year Scholarships to Football, Basketball Players
Erik Matuszewski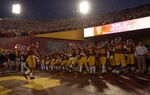 The University of Southern California will offer four-year athletic scholarships instead of one-year renewable scholarships to all students in the revenue sports of football and men's and women's basketball.
The policy takes effect July 1 for all current and future scholarship student-athletes, provided they remain in good academic standing, Athletic Director Pat Haden said.
The National Collegiate Athletic Association in 2011 passed legislation allowing universities to offer multiyear scholarships, though many schools have been slow or reluctant to do so. Andrew Brandt, a sports business analyst for ESPN and former executive with the National Football League's Green Bay Packers, said USC's decision may give their football and basketball programs a recruiting advantage over other schools where one-year scholarships haven't been renewed.
"They can now point to all the examples of players that were once top recruits but were non-renewed based on unforeseen circumstances," Brandt said in an e-mail. "This will give them an advantage, assuming an arms race doesn't develop and we see much more of this."
Brandt said many schools haven't offered multiyear athletic scholarships in the past because they haven't had to compete with other universities doing it. The Chronicle of Higher Education said in a 2013 report that 35 of 56 schools surveyed said they offered multiyear scholarships, though they comprised less than 10 percent of all athletic scholarships.
"In taking this action, USC hopes to help lead the effort to refocus on student-athlete welfare on and off the field," Haden said in a statement.
The University of Alabama in 2012-13 gave out 23 multiyear athletic scholarships, according to the Pittsburgh Post-Gazette, though the sports they were awarded in weren't identified.
Kentucky Basketball
At the University of Kentucky, basketball coach John Calipari awarded four-year scholarships to all four members of his 2012-13 freshman class. When Calipari was hired at Kentucky in 2009, six former players told ESPN their one-year scholarships weren't renewed because they didn't fit his system or have the desired talent level.
Michigan State is among the schools that offers four-year scholarships to all its football players, according to the Post-Gazette.
Before it's here, it's on the Bloomberg Terminal.
LEARN MORE