pursuits
A New Decision: LeBron James Will Be a Free Agent This Summer
By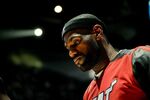 LeBron James has informed the Miami Heat that he will exercise the early termination option in his contract with the team, making James an unrestricted free agent this summer and fair game for any team in the league. While many would love to have him, James could also decide to re-sign with the Heat under terms more favorable for building a championship team around him. James and his current teammates were badly outplayed by the San Antonio Spurs in this year's NBA Finals.
Whatever happens this time around, it is not likely to resemble the public relations fiasco of the summer of 2010, when James appeared in a half-hour special on ESPN to tell the world that he would "take his talents to South Beach."
That decision, and the way James decided to share it, sparked anger among jilted Clevelanders and among fans around the country. Despite two NBA championships in four consecutive trips to the NBA Finals since, James is still recovering from the damage. According to recent data from ESPN, the percentage of people calling James their favorite NBA player fell from 15.6 to 10.4 percent immediately after his televised special. And while James is now more popular than ever with among avid basketball fans and black fans, he still lags his pre-Decision peak among casual and white fans.
James says he has learned from his mistake. "If I could look back on it, I would probably change a lot of it," he said in 2011, "The fact of having a whole TV special—and people getting the opportunity to watch me make a decision on where I wanted to play—I probably would change that." (Almost 10 million watched The Decision, which generated $6 million in ad revenue for charities.) Along with becoming both a more complete player on the floor, James has become the de facto voice of the players on everything from Donald Sterling to the Affordable Care Act.
Famous since he was an adolescent, James now operates on a level rare even for elite athletes. When Apple bought Beats by Dre earlier this year, James reportedly turned a $30 million profit on his endorsement partnership with Beats. The stakes are as high as they have ever been, and James knows it. He won't be getting out the purple gingham shirt again.
(
Corrects a spelling error in the second paragraph.
)
Before it's here, it's on the Bloomberg Terminal.
LEARN MORE