Starbucks Tries Out Yogurt Smoothies in Search for Afternoon Drinks
By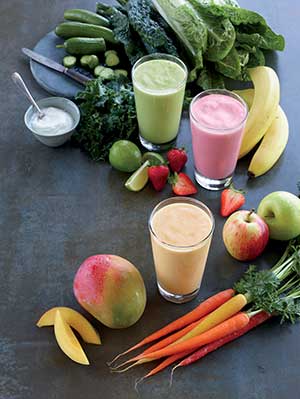 At its core, Starbucks is still a coffee company. The problem is that most people don't drink coffee all day long, which explains why about half of Starbucks's sales are made before 11 a.m.
The company's recent strategy calls for expanding the lunch and afternoon business through non-coffee products like food, juice, and—most recently—Fizzio soda. Now Starbucks will start testing Evolution Fresh smoothies made with Dannon Greek yogurt "for added protein." Starbucks and Danone entered into a partnership last year. Three smoothie flavors will be tested in nearly 200 Starbucks in San Jose and St. Louis starting on Tuesday, and a full line is expected to launch in all markets next year.
All these product launches generate sales unrelated to coffee. While Starbucks declined to break out its coffee-related sales, the company has acknowledged growth in non-coffee areas. Tea now accounts for 9 percent of total sales. Food purchases bring in about 20 percent of sales, up from 12 percent a decade ago.
Asked if Starbucks plans to expand from its coffee and pastry-based menu to a broader quick-service restaurant menu, spokeswoman Linda Mills replied in an e-mail: "Coffee will always be the core of who we are and what we offer to our customers. That said, our customers have asked for additional options from us."
Not all of Starbucks's menu initiatives have gone smoothly. The company had to bring back some of its old pastries such as sliced lemon cake after consumers complained about the new ones from La Boulange. Customer habits don't change quickly.
Before it's here, it's on the Bloomberg Terminal.
LEARN MORE