Prisoners Turn Painters as London Building Boom Adds Jobs
Neil Callanan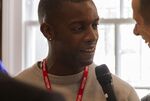 Lorenzo Dorsett, a former Arsenal Football Club youth team soccer player, spent more than three years in prison for drug possession. Today he works as a painter and decorator in London, where a building boom is creating jobs that benefit more than just the economy.
"I've worked consistently since I finished" a training program for current and former inmates, said Dorsett, 34. Before jail, "the only career path was football and when that stopped, I didn't know what else to do," he said.
Engineers, bricklayers and painters like Dorsett are finding eager employers in London as office and residential construction soars to levels not seen since before the financial crisis. That's making life easier for workers with blemished resumes including ex-convicts trying to swap prison uniforms for worker's overalls.
Employment in Britain's building industry rose for the 12th straight month in May, the longest streak in six years. Spending on London home repairs climbed by more than 20 percent in the first quarter from a year earlier, according to the Office for National Statistics.
"The London order book is at record highs," Mark Lawrence, chief executive officer of building-services provider TClarke Plc, said by phone. "Clients seem to be extremely busy. It's going to go absolutely crazy out there."
Engineers Needed
Lawrence, who joined TClarke as a 16-year-old apprentice electrician, said the firm has hired five engineers in London this year, increasing the number in the city to 85 with plans to add more. Wages will probably rise, he said. The company will be working on Bloomberg LP's new London headquarters near the Bank of England in the City of London financial district.
Dorsett says his jobs have ranged from refurbishing vacant government housing to plastering the exterior of apartment blocks. He learned to be a painter and decorator through the Bounce Back Foundation, a charity founded three years ago that focuses on training and employing ex-prisoners.
"There's a skill shortage in the construction industry," Bounce Back founder Francesca Findlater said at the June 5 opening of a training center at Brixton Prison in south London. "There's a lot of demand with the regeneration projects. The climate now couldn't be better."
Bounce Back wins painting and decorating contracts and then hires former inmates like Dorsett, who are self-employed, to do the jobs. About 10 percent of those trained through the charity have re-offended, according to the foundation.
Building Homes
Homebuilders to private-equity investors are ramping up London construction as the U.K.'s economic recovery drives job growth and home prices break records. The value of new-home construction in London almost doubled to 1.68 billion pounds in the first quarter from a year earlier.
Residential values in the city gained 19 percent in the year through April to an average of about 485,000 pounds, according to the Office for National Statistics. Registrations for new London homes reached the highest in at least 26 years in 2013, according to the National House-Building Council. The NHBC plans to hire 100 workers, its biggest recruitment drive in 30 years, as demand rises for building inspectors and managers.
Gotham City
Private-equity firm Carlyle Group LP plans to create 750 construction jobs developing apartments, offices and stores at its Bankside Quarter project on the south bank of the River Thames. TIAA Henderson Real Estate's Gotham City office block in the City of London financial district will need almost 400 workers, the company said in February. Chancellor of the Exchequer George Osborne set aside 150 million pounds in March's budget for loans to regenerate public housing, boosting demand for labor.
Berkeley Group Holdings Plc, London's largest mixed-use developer, is weighing the development of 6,000 homes at its Kidbrooke project, a former government housing project less than 5 miles (8 kilometers) south of London City Airport. It had originally planned 4,000 homes there.
"People are going around construction sites in London, offering more money to tempt workers off one site to go onto another," said Mark Farmer, head of residential advisory at consulting firm EC Harris LLP. "There are not enough people to go around to build what's currently coming forward."
Construction demand is so high that rates charged by subcontractors increased at the fastest pace since Markit Economics and the Chartered Institute of Purchasing & Supply began to track the data more than 17 years ago.
Super-Prime Homes
Tender prices for building work in the U.K. capital have risen by as much as 15 percent this year with the highest inflation in the super-prime residential market, EC Harris's Farmer said. Super-prime homes are valued at 5 million pounds or more, according to broker Savills Plc.
If the costs in London rise too quickly, it may lead to less work than expected. "There is a danger some of the projects that these contractors are hoping to work on will stop because they don't remain viable" because of the costs, Farmer said.
More than 140 current and former inmates have completed courses with Bounce Back. After the training they volunteer for community projects to gain experience. Training costs 2,500 pounds per prisoner compared with an annual cost of 47,000 to 90,000 pounds to keep a person in jail, the charity said in a statement.
Restored Pride
At Bounce Back's Brixton prison opening, boxing promoter Frank Warren said that such programs give young offenders a chance to get back into the community and restore their pride. He cited the example of Bernard Hopkins, the U.S. fighter nicknamed The Executioner who spent more than four years in prison before becoming a world champion.
Alfonso Allen, a 26-year-old scaffolder from north London's Islington borough, is attending a training course with the foundation while he serves a term for selling drugs. The building firm he used to work for hopes to hire him again when he's released, he said.
Dorsett said he plans to return to Bounce Back to seek further job opportunities. "I just needed to be given the chance at something," he said.
Before it's here, it's on the Bloomberg Terminal.
LEARN MORE