Rupert Murdoch's Inner Circle Escapes Again
By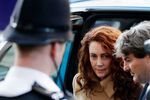 At long last, Rupert Murdoch's top priority in the London phone-hacking scandal has been achieved. Rebekah Brooks is in the clear. On Tuesday in London, after weeks of deliberation, a jury found Brooks not guilty on charges of phone hacking, bribery, and perverting the course of justice.
So far, Murdoch has remained mum on Twitter about the verdict. It wouldn't be surprising if he is privately rejoicing. Brooks, the former head of News Corp's newspapers in London, was a longtime, beloved favorite of Murdoch's.
In the meantime, Andy Coulson, a former editor of Murdoch's now defunct News of the World and erstwhile head of communications for Prime Minister David Cameron, was found guilty on a single count of phone hacking. The verdict prompted an immediate apology from Cameron. "I am extremely sorry that I employed him," said the prime minister.
While Coulson's conviction provides yet another embarrassing moment for Cameron, Brooks' acquittal is yet another surprising victory for Murdoch in the long and gradual unwinding of the phone hacking and police bribery scandal that battered his empire.
In the summer of 2011, at the height of the scandal, various observers speculated that the resulting investigation could possibly land a member or two of the Murdoch clan  in police custody. That prediction, along with many other grim ones, never happened. "The closest they got to the family was Rebekah Brooks," Richard Levick, a lawyer and crisis management expert, told us last year.
Now Brooks is clear.
Credit the protege for learning from the master. Murdoch is, after all, the ultimate escape artist in the scandal-factory business.
"Time and again, when his plans have gone awry and he has found himself facing calamity, his superb survival skills have saved him," Australian journalist Neil Chenoweth wrote in a biography of Murdoch published in 2002. "This is Murdoch's genius: not that he gets into a jam, but that he is able to walk away afterward, an implausible winner."
Before it's here, it's on the Bloomberg Terminal.
LEARN MORE