Petrobras Took on State Spending at Refinery: Documents
Sabrina Valle and Peter Millard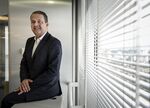 Petroleo Brasileiro SA shouldered at least 829 million reais ($373 million) in spending at an oil refinery that a Brazilian state had previously agreed to assume after requests by then governor Eduardo Campos, according to internal documents obtained by Bloomberg News.
In his previous role as governor of Pernambuco state, Campos sent requests to then refining director Paulo Roberto Costa to have Petrobras cover expenses related to the Abreu & Lima project that Pernambuco had originally agreed to pay, according to the documents signed between 2007 and 2010. Now a Brazilian presidential candidate, Campos said his dealings with Petrobras were always transparent and in the public interest.
Passing on expenses to state-run Petrobras is one example of how the refinery's budget swelled to $18.5 billion from $2.5 billion. Chief Executive Officer Maria das Gracas Foster has called the project -- which is the subject of unrelated federal probes involving over billing and money laundering -- an example of inefficiency that can't be repeated. The internal documents don't indicate any wrongdoing by Campos.
Campos was Pernambuco governor from 2007 to April 2014 when Petrobras started building the plant and now is running third in the presidential polls. Petrobras didn't provide a response to at least three e-mails and several phone calls seeking comment. The office of President Dilma Rousseff referred questions to the Rio de Janeiro-based company.
Refining Losses
Operational losses at Petrobras's refining unit have reached more than $40 billion since 2011 when Rousseff started using the company to subsidize fuel imports to rein in inflation. Runaway spending at the unit has led to a host of federal investigations this year and put Rousseff on the defensive ahead of October elections.
The various investigations have prodded Petrobras to begin its own internal probe amid a four-year slide in the company's share price and criticism from analysts and investor groups that Brazilian government meddling in the company's affairs is central to its poor performance.
There is no evidence that Rousseff, who chaired Petrobras from 2003 to 2010, was aware of the requests that were made to Petrobras management, not the board of directors. While Rousseff holds a lead in polls, the combined support of opposition candidates Aecio Neves and Campos may be enough to force her to compete in a runoff election on Oct. 26.
'Political Component'
Former president Luiz Inacio Lula da Silva, who was born in northeastern Brazil where the ruling Workers' Party remains popular, said in 2005 that the project would create jobs and accelerate the economy in one of Brazil's most undeveloped regions. He also pitched it as a source of regional integration. Venezuela originally planned to pipe in tar oil from the Orinoco region before pulling out of the venture.
"There's a heavy political component that can't be neglected," Marcela Segade, senior manager of downstream research at consulting firm IHS, said in a telephone interview. "Pernambuco is where Lula is from, so that's a project close to his heart."
Petrobras's decision to build at a new site instead of continuing to expand capacity at existing plants with related infrastructure probably contributed to the high price tag, said Mike Leger, president of Turner, Mason & Co., a Dallas-based energy consultant.
The refinery is more expensive than similar projects globally that are designed to turn medium and heavy grades of crude into high value transportation fuels including diesel and gasoline, he said.
No Bargain
"They're building a lot of complexity, I would have expected it to be more in the $10 billion plus range, so it doesn't appear they got a bargain compared to competitive projects around the world," Leger said by phone.
Motiva Resources LLC spent about $10 billion to add a new 325,000-barrels-a-day processing train to its refinery in Port Arthur, Texas. That's about $30,000 per barrel of capacity, compared to more than $80,000 at Abreu & Lima. Reliance Industries Ltd. spent $6 billion, or $10,000 per barrel of capacity, to expand its Jamnagar complex.
Foster has cited infrastructure related to refinery access as one of the reasons costs rose more than sevenfold; others include design changes and swings in the exchange rate. The project is 87 percent complete and Petrobras plans to start operations in November, Foster told lawmakers last week.
"Building a refinery in Brazil requires off-site construction," she said. "In other places, needed investments don't go beyond the heart of the refinery."
The documents show Campos, the heir of a political family from Pernambuco state where his grandfather was also a governor, wrote that the state was short of funds and the project would be delayed unless Petrobras assumed the cost of building refinery infrastructure, including shipping channels, a pier, access roads and part of an expressway.
Flood Relief
"During my two administrations in Pernambuco, relations with Petrobras were always institutional, transparent and oriented toward the public interest," Campos said in an e-mailed response. He didn't reply to questions about spending increases.
Campos was first elected as part of the ruling coalition, was science minister under former president Lula and was active in Rousseff's 2010 campaign. He broke with Rousseff after the largest street protests in two decades last June against inflation, poor public services and corruption eroded the president's popularity.
In a Sept. 23, 2010 letter to Costa, Campos requested 200 million reais from Petrobras for an access channel to allow tankers to dock at the refinery's port because flood relief efforts had drained the state's budget, the documents show.
Legal Steps
Foster told lawmakers that the channel is being finished with Petrobras's own money and without compensation. She made no mention of Campos. Dredging work at the Suape industrial complex is being investigated by the country's audit court in Brasilia.
Campos' requests for payments from Petrobras later reached at least 829 million reais because the state government was unable to pay for other construction work to which it had previously committed, the documents show. Fifty-six percent of the resources would be returned to Petrobras over 25 years with fees the port complex would generate, they show.
It is common to have this kind of a contract and the investments are almost complete, the Suape port said in an e-mailed response. The requests for spending increases were made jointly by Petrobras and the state government and were approved through the appropriate legal steps, Suape said.
Beyond Reach
"The total budget, including dredging and rock fragmentation, reached an amount that the state considered beyond its possibilities," one of Costa's deputies wrote in a letter requesting the additional spending that Costa, the former head of refining, signed and sent to the executive board for approval.
Prosecutors are investigating Costa in an unrelated matter for allegedly diverting funds from Abreu & Lima to informal currency changers, Judge Sergio Fernando Moro said in a June 11 statement. Swiss authorities blocked $28 million held in accounts linked to Costa, according to the statement.
Costa's lawyer Nelio Machado didn't respond to phone calls and e-mails requesting comment.
Dismissed in 2012 after Foster became CEO, Costa told lawmakers he couldn't recall any direct negotiations with the state government to authorize cost increases at the refinery. The documents obtained by Bloomberg show he signed off on at least two of the cost increases Campos had requested, and his name appears on other correspondence with Campos.
Before it's here, it's on the Bloomberg Terminal.
LEARN MORE