Rangel Faces Biggest Electoral Test in Close Primary
Annie Linskey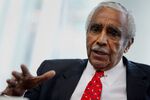 Charles Rangel, who has represented New York City for more than four decades in the U.S. Congress, is facing one of his toughest electoral tests in a Democratic primary that's too close to call.
Rangel, 84, is being challenged, in a rematch, by state Senator Adriano Espaillat, 59, who is seeking to make history by becoming the first Dominican-American elected to Congress.
With all precincts reporting in yesterday's election, Rangel led by 1,828 votes, a margin of 47 percent to 44 percent, according to the Associated Press tally. Espaillat refused to concede, saying he was waiting for all the votes to be added up, including absentee ballots.
"Every single vote needs to be counted," Espaillat said in a statement, issued before 1 a.m. local time. "Given the thousands of votes outstanding, the people of Upper Manhattan and the Bronx deserve a full accounting of every vote."
Rangel, the third-longest-serving current member of Congress, told his supporters that he won the race.
"This was your victory," Rangel, who was first elected to the U.S. House of Representatives in 1970, said to a crowd at his primary night party. "This is your congressman, and you can rest assured all I will be doing is thinking of you."
The New York City Board of Elections said it hadn't yet counted the absentee votes or affidavit ballots, which are votes cast by residents whose eligibility must still be verified.
Demographic Shift
New York's 13th Congressional District has undergone a sweeping demographic transformation. The district, which stretches from Upper Manhattan to the Bronx, was once a symbol of black political power, yet is now 55 percent Hispanic and 26 percent African-American, according to U.S. Census data. Much of the Hispanic population, like Espaillat, is Dominican.
Two years ago, Rangel, hampered by an ethics investigation, physical injuries and a newly redrawn district, defeated Espaillat by only about 1,000 votes. This time, the lawmaker was more active on the campaign trail as he faced a more seasoned opponent who never stopped running after his 2012 defeat.
Rangel, who is serving his 22nd term in the House and co-founded the Congressional Black Caucus, made the case to voters that his experience is needed to help President Barack Obama fend off Tea Party-inspired attacks, playing on the president's popularity in the district.
Obama, who won 95 percent of the vote there in 2012, stayed away from the race.
Waning Influence
For periods in the campaign, Rangel appeared to be in trouble. Opponents pointed to his waning influence in the House stemming from an ethics scandal over underpaid income taxes that cost him his post as chairman of the Ways and Means Committee.
Local leaders who had stood by Rangel through that flap, including New York City Council Speaker Melissa Mark-Viverito, backed Espaillat this time. Supporters point to the state senator's push for in-state tuition rates for undocumented immigrants and say Rangel is too close to Wall Street.
Espaillat also whittled away at Rangel's money advantage, raising $510,000 compared with Rangel's $1 million, through June 4. Two years ago, the congressman raised three and half times more than Espaillat.
Even so, in the last six weeks Rangel appeared to have momentum as he attacked Espaillat's legislative record in the statehouse and showed off his experience in Washington.
"He's been in so many political battles he just knows all the tricks," said William Cunningham, the managing director at DKC public relations.
Playing Showman
At a May 14 debate, Rangel played the showman -- and dominated the news coverage -- when he used his opening remarks to take a mock phone call from a "friend" and attacked his opponents while they sat uncomfortably in their seats.
Members of the audience laughed as Rangel used his three minutes to chatter away on the phone: "No, he's been there 18 years, but he didn't say he passed any bills at all," Rangel said, referring to Espaillat's time in the New York state legislature.
The New York Times urged voters to support Espaillat. "After nearly 44 years in office, it is now time for him to yield to the next generation," according to the editorial. "It's time for a change."
In 1970, Rangel won the seat by knocking off 26-year veteran U.S. Representative Adam Clayton Powell Jr. in a Democratic primary with 150-vote margin. Powell was New York's first black congressman and had become enmeshed in scandals.
Rangel rose to power as part of the "Gang of Four," with former Mayor David Dinkins, onetime New York Secretary of State Basil Paterson and broadcasting executive Percy Sutton, who organized Harlem voters into a constituency with statewide sway.
Absentee Ballots
In Rangel's current race, roughly 980 absentee ballots have been received by the New York City Board of Elections, said Valerie Vazquez, a spokeswoman for the board. Additional ballots could still be considered if they arrive by July 1, she said. She said she didn't know how many affidavit, or provisional ballots, were outstanding.
Two other candidates in the primary -- Yolanda Garcia, a community activist, and Michael Walrond, a pastor -- were far behind in the vote count.
Before it's here, it's on the Bloomberg Terminal.
LEARN MORE