Heathrow Airport Takes a Methodical Approach on New Terminal
By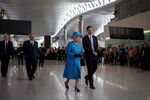 Six years ago, London's Heathrow Airport opened Terminal 5 and quickly met operational disaster: Hundreds of flights were canceled, and more than 23,000 bags got misdirected because of computer-related glitches that triggered cascading system failures. Newscasts around the world noted the debacle, with irate passengers stranded for extended periods.
"What should have been an occasion of national pride was in fact an occasion of national embarrassment," a House of Commons report (PDF) concluded about the shambolic debut of the £4.3 billion ($7 billion) T5, home of the national carrier, British Airways.
Officials at Heathrow were determined to avoid a repeat, so the airport is opening its new Queens Terminal in stages over the next six months, with airlines gradually migrating to the new real estate. Also known as Terminal 2, the facility is being used by 26 carriers, including the 23 members of the Star Alliance, led by Lufthansa, Air Canada, and United. Queen Elizabeth II visited on Monday to formally inaugurate the new terminal, designed to handle 20 million passengers per year. It cost £2.5 billion pounds.
Three years into what has become a 62-year reign, the queen opened the original Terminal 2 in 1955. That facility, designed for 1 million passengers annually, closed in 2009 amid struggles to manage eight times that many. On June 4, United became the first carrier at the second Terminal 2 with an arriving flight from Chicago—one of only 34 Heathrow scheduled for the new facility that day. Air Canada, for example, just began using it on Wednesday.
Before it's here, it's on the Bloomberg Terminal.
LEARN MORE