Have Brazilians Lost Their Love of Soccer?
By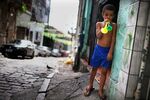 There are two motels along the highway that runs between Paulinia and Campinas, two small cities about an hour west of São Paulo. The word "motel," Wesley tells me, does not mean what I think it does. In Brazilian Portuguese, things happen in a motel, but sleeping is not among those things. Both motels are massive and shielded from curious eyes on the highway by high walls.
Wesley is a family friend, taking care of me while I'm in São Paulo for a two-day layover before heading north to Fortaleza to watch some soccer. In Paulinia, where he lives, I ask where the Brazilian flags are. He points down his street and says that in any other World Cup year, you'd see flags on every house. You see them this year, but isolated: two or three per apartment tower. This doesn't mean that Brazilians don't care about the cup. It does mean that the way they care about the cup is complicated.
Wesley drove me from Paulinia to Campinas this morning so I could buy a bag full of Brazilian national team jerseys to bring home for kids and nephews. In the car, he tells me that Paulinia has an American football team—pigskin and helmets and pads, that kind of football—and says that pigskin football is Brazil's fastest-growing sport. I ask why, and he explains that the soccer leagues in Brazil are frustratingly corrupt. He's fed up with corruption in general. If Brazil were less corrupt, he says, it would be the richest country in the world. This is a little like saying that if I were as attractive as George Clooney I would be as universally loved. That I am less attractive than George Clooney is definitional to my existence, as immutable as Brazilian corruption.
And being a soccer fan in Brazil, a torcedor, is dangerous. Wesley likes Corinthians, one of São Paulo's teams and the most popular in the country. But he would never, ever set foot in the stadium. During the World Cup, it has been made safe for gringos. When the gringos go, it will be a bigger, better stadium, but once again a dangerous place to watch a soccer match.
Apartments in Campinas, a city of about a million, are also missing their Brazilian flags. As in Paulinia, there are only one or two per tower. But the city's businesses are committed. Poor McDonald's, with its yearslong, apolitical marketing pipeline, has gone full go team Brazil, with flags, blue, yellow, and green streamers, and tissue-paper globes in the same colors. A Shell gas station gamely flies strings of Brazilian flags, making it look a little like a used car lot. A dress shop has tried to split the difference on this year's grumpiness, with a yellow banner in the window that reads, "I am a torcedor of a better Brazil."
When I was researching the branding fight around this year's cup between Nike and Adidas, Trevor Edwards, the president of Nike Brand, told me that Phil Knight, Nike's founder, had said once that the company wouldn't understand soccer until it saw the game through Brazilian eyes. I don't have my notes in front of me, but he added something like this: "If Nike were a country, it would be Brazil." This is supposed to be Nike's cup. It sponsors the Brazilian national team, in Brazil, contesting the world championship of Brazil's national game.
But Brazilian eyes, this year, are not shining with the same unconditional love that Nike, and the Brazilian government, had expected. There are not riots in the street, as feared, or at least not of more than a couple hundred people. Wesley, who joined in a protest in Paulinia last year, is not out in the streets, either. But Wesley, like a lot of other Brazilians, is withholding his love of the national team out of protest. The formula is not as simple as Nike had hoped. A Brazilian cup does not mean the automatic embrace of the Brazilian team and consequently an affection for Nike and its Brazilian jerseys.
In any case, those jerseys are too expensive for Brazil. Wesley steers me past the department stores in Campinas, where Nike's official jerseys cost a hundred dollars, and to an alley you can find almost anywhere in the world, the one that sells knockoff cell phones, Xboxes, and jerseys. The shirts I buy cost $7 apiece and feature a Nike-like swoosh that has been turned into the word "Brazil." Certainly none of that money went to Nike.
But the annoyance with the government and the national team doesn't extend completely to the game of soccer or even the spectacle of the cup. On TV, Brazil is celebrating all of the most motel aspects of this World Cup. Staying in a family home, I have seen two full 15-minute TV segments dedicated to the discussion of who is the most gorgeous international soccer player in Brazil this month. Another segment asked the same of the international fans in the stands, the "Muses of the Cup." An ad for a local phone carrier shows how convenient it is to be able to make cheap international calls to the gorgeous visiting women of the Netherlands, Spain, and Bosnia Herzegovina. Selling soccer in Brazil this year is more complicated than just selling the national team.
On the way home, we pass a garage decorated with a wallsize painting of Ayrton Senna da Silva, a Formula 1 driver who won world championships in the late 1980s and early '90s. He is the most loved athlete in Brazil, says Wesley. More than Pelé, I ask? Way more than Pelé, says Wesley. Pelé, he says, talks too much bobagem. I do not know what bobagem is. He searches for another word. "Merda," he says. "Pelé talks too much merda."
Before it's here, it's on the Bloomberg Terminal.
LEARN MORE