Gap Raises Wages and—Surprise—More People Want to Work There
By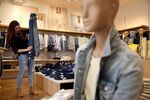 When Gap Chief Executive Officer Glenn Murphy announced in February that the retailer would raise the minimum wage it pays employees, he said the decision wasn't determined by any political calculations and that paying more made business sense. Now Murphy can prove it: Gap raised its starting wage to $9 an hour this week (it will become $10 next year) and already the company says it's getting more and better-qualified job applicants. "When it's all said and done, this is a race for talent," Murphy said in an interview today on CBS This Morning.
Applications for jobs at Gap have increased 20 percent, he said. The effect is particularly striking at Old Navy, where the number of candidates had been declining. Some of these new applicants have experience working at retailers that pay less.  "That we'd be able to be more competitive and attractive in getting the best talent we can find—that's where the benefit will come," Lynn Albright, vice president for Old Navy stores, told Bloomberg Newson Monday after speaking at the White House Summit on Working Families.
As for those already working at Gap, about 31,000 will get raises this month. And when the company increases its wage to $10 an hour next June, about 65,000 workers will get a raise. The impact is likely to be greatest in the South and Midwest, where states tend to have lower minimum wages.
Murphy has also been clear that Gap is expecting more from its store employees as the company tries to bridge the physical and digital divide. Its most recent attempt is Reserve in Store, a service that allows customers to order clothes online and pick them up in the stores. "I would make Reserve in Store my No. 1 priority if I was a brand president," Murphy said at the company's annual meeting in April. New employees take note.
Before it's here, it's on the Bloomberg Terminal.
LEARN MORE