Freelancers Union Wants to Be Your HR Department
by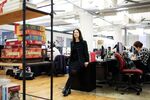 Freelancers Union, a Brooklyn-based nonprofit that seeks to unite marketing consultants, Web designers, nannies, and other independent workers, is expanding its base.
Beginning this fall, the organization will help members in all 50 states buy health insurance. It will also use the collective purchasing power of its 233,000 members to negotiate better deals on other benefits, including retirement plans and dental, disability, liability, and life insurance, Freelancer Union executive director Sara Horowitz said in an announcement at the Clinton Global Initiative America conference in Denver today.
When corporate professionals get hired as employees, they routinely get a thick folder from HR detailing just those kind of benefits. Patching together retirement plans and ancillary benefits is harder for gig workers. Freelancers Union already offers at least some of those services in many states, but the new initiative represents a more comprehensive effort to reach a national audience. Currently, more than 60 percent of Freelancers Union's members reside in New York.
Horowitz founded the organization in 1995 to advocate for independent workers, and soon homed in on health insurance as an opportunity. At first, the organization pooled its members to get better rates from insurers. Then it launched a for-profit insurer called Freelancers Insurance Company to operate in New York State in 2008. Later, it opened a pair of clinics—one in Brooklyn, another in Manhattan—to offer free primary care and wellness services (such as yoga and tai chi classes) to Freelancers Insurance members.
Depending on whose numbers you prefer, there are between 10 million and 42 million independent workers in the U.S. That figure should grow as technology makes it easier for employers to hire remote workers, and companies such as Uber, Etsy, and TaskRabbit create opportunities for people to earn money outside conventional employment.
The organization's move to package a range of benefits may also indicate that the freelance economy is maturing. Health care was an immediate need, even for those who saw freelancing as a short-term bridge between full-time jobs. Workers who expect to remain independent for the long-term are more likely customers for the retirement plans and life insurance policies that Freelancers Union will make available on its site.
Before it's here, it's on the Bloomberg Terminal.
LEARN MORE