Exclusive: Sundar Pichai, Head of Google's Android, on Apple, Samsung, and Amazon
by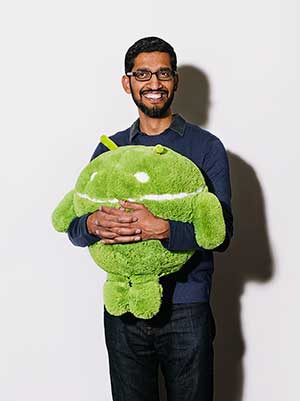 Sundar Pichai may have the most difficult job at Google after Chief Executive Officer Larry Page. He oversees Android, the ubiquitous mobile operating system, as well as Chrome, the dominant Web browser and emerging OS for laptops. Pichai takes center stage this week as the keynote speaker at Google's annual I/O conference. Six thousand developers and members of the media are expected to attend at San Francisco's Moscone Center. He spoke with Bloomberg Businessweek's Brad Stone in an exclusive series of interviews for a feature in this week's magazine. Excerpts:
Tim Cook recently used the stage at Apple's Worldwide Developers Conference to throw a few darts at Android. He said most users are running "ancient" versions of Android without the newest features. Is that fair?
You have to understand, what Apple does and what we do are such different things. They make … two models of the iPhone, which they get people to buy. We are shipping thousands of devices throughout the world. … It's not an apples-to-apples [comparison].
We ship a new version of Google Play Services every six weeks. Typically, 90 percent of users are on the new version of that. It's a platform layer we ship independently. In some ways, we move the platform faster than anyone else and provide a consistent layer for developers.
Apple announced lots of great things in their keynote. They also announced things we have done in Android four or five years ago, [such as] third party keyboards, richer notifications, and widgets. These all happened in Android such a long time ago. If you step back and take a holistic look, I think any reasonable person would say Android is innovating at a pretty fast pace and getting it to users.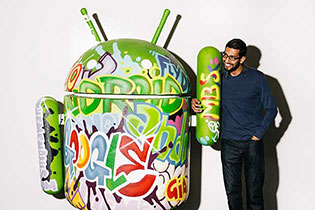 Apple said they're picking up lots of people who abandoned Android. Is that right? How does it compare to the number leaving Apple for Android?
Every piece of data I look at tells me that people are adopting Android at a faster pace than any other operating system. We are doing remarkably well. … They run a great show. I take it for the value of the show. … Do I worry about what they are doing? Yes. They are a great company. I think they are building a very good product and it's vertically integrated, which helps them do certain things faster.
I think of it almost … like two types of government. Some [forms of] governments will be able to do things faster because they are opinionated and get things done. Than you can have a noisy, cacophonous, cantankerous democracy, which is often better in the long run. So you have two different worldviews being presented. To me, I look at it and say it's remarkable that we live in a time when you have such different choices.
Tim Cook said Android is a "toxic hell stew of vulnerabilities." Care to respond?
You have to be careful when you make a $100,000 Mercedes car not to look at the rest of automotive industry and make comments on it. … We serve the entire breadth of the market, globally across all form factors, et cetera. Android from the ground up is designed to be very, very secure. … History shows typically that malware is also targeted at the more popular operating system. So you know there is that.
Do we take security seriously? Yes. [In the Google Play app store,] we detect malware. If you are installing an app, we ask user's permission. If they say "yes," we scan it. Even if you are scanning anything outside of the Play store, we still detect and warn you if its malware. Every time I look at the data—across millions and millions of users' phones—the data is encouraging.
China is a huge and growing smartphone market. Many Chinese OEMs use Android, but Google mobile services such as search, Google Maps, and the Google Play store are not available there, as part of Google's ongoing issues with the Chinese government. What are you going to do about that?
We would love to see a way to serve users in China. A lot of our ecosystem partners are based in China. I do think it hurts all of us and our users in China today by not having the Play store there. I think users are more vulnerable to security issues—and in fact, some of the security things Apple talks about, they include data from China.
Did you always get along with Andy Rubin, your predecessor at Android?
Personally, yes. We were a lot more aligned, in terms of product and technology that could help form a common bond, in spite of us working on different and potentially overlapping areas [within Google]. … There was nothing ever personal. We had a good sense of friendship. We weren't particularly close, but we never had any major disagreements. We had passionate debates about certain courses. … I actually agreed with Andy a lot more. I felt he and I were doing something very different from the rest of Google. We were building computing platforms, and we were always struggling with a set of issues that the rest of Google couldn't quite internalize.
We hear you'll be talking about Android TV at I/O. How has Google's view about the opportunities in the living room changed since the introduction of the failed Google TV platform a few years ago—and more recently, the introduction and positive response to Chromecast?
We will have more to say about Android TV. … We look across televisions and it's no different from how smartphones were. It was very fragmented, with different underlying operating systems … and no consistent way for developers to target across the breadth of smartphones, etc. We see same things with televisions.
Google TV took a good initial step and made a lot of progress. Look at the number of televisions which are shipping this year: They are all connected TVs and they are all doing some version of a smart operating system. A lot of credit goes to Google TV for helping that process get started and helping to build something like Chromecast. We see the same opportunity—to bring the power of open platform like Android and provide a consistent story for developers across all televisions—and similarly to provide all television manufacturers a way to make televisions much smarter. But [they can] do it with the power of a full ecosystem behind it.
Why would TV makers embrace Google's operating system and cede even more control to Google?
I think it is going to be hard for individual OEMs to create a platform on top of which people will write content and services and which users will transact. If you buy content and services from your television, do you expect it to work on your tablet? If I bought something on my tablet, do I expect it to seamlessly run on my television? That's the power that Android and an end-to-end experience can provide. … It will work across everything.
Samsung has developed an operating system called Tizen, suggesting they could leave Android or reduce their dependence on it. Does that worry you?
They have announced they are going to ship Tizen phones in Russia. I think it's an effort within Samsung. It's a big company. Google is a big company, and we do things like this too. … We have to build the best computing system out there. I view Tizen as a choice which people can have. We need to make sure Android is a better choice.
Amazon will soon start selling a phone with a 3D screen, running its own variant of Android without services from Google. (Amazon announced its phone, the Fire on June 18.) Does that hurt Android?
It depends on what they do with it. We care. Android is a very open platform. We don't mind people using it. We encourage people to use it. It is designed to be flexible. But we do care about it being consistent for developers.
We would love to see Amazon more aligned on open-sourced versions of Android. … Having said that, to the extent they are doing something different with the phone, that innovation is good for the ecosystem.
Do you see yourself as the CEO of Google one day?
Ha, ha. Ah, no, look, I mean, Larry is very, very committed to Google for the very, very long run. My passion is with computing. I'm fortunate to … be a part of two large open platforms.
For more on Pichai, read: Google's Sundar Pichai Is the Most Powerful Man in Mobile.
Before it's here, it's on the Bloomberg Terminal.
LEARN MORE