China Calls Hong Kong Democracy Vote a 'Joke'
By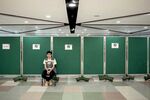 Hong Kong's unofficial referendum on how to select the city's next leader is only half-done and has been suffering cyber attacks, but with five days left to go, the vote is shaping up as a big victory for pro-democracy groups. More than 733,000 people have voted since the poll began on June 20, according to the University of Hong Kong's Public Opinion Programme; with several days to go, organizers stand a chance of breaking the 1 million mark—more than half the 1.83 million that turned out in the 2012 official, government-organized elections for the Hong Kong legislature's geographical constituencies.
The participation rate of Occupy Central's poll is especially impressive when you consider that the current referendum is unofficial and that opponents have spared no energy to denounce it. The Chinese media are particularly up in arms. The Global Times, the Shanghai tabloid known for stridently nationalist editorials, has not disappointed. The newspaper has run a series of pieces criticizing the poll, yesterday calling the referendum an "illegal farce" and "a joke."
"Throughout the world, we have never heard of making major political decisions via an electronic ballot," the newspaper said in its editorial section. "This 'invention' is tinged with mincing ludicrousness." In one of its more inflammatory suggestions, the Global Times editorial suggested that Chinese in the mainland also deserve a say in Hong Kong's future: "The Basic Law reflects the will of the nation as a whole, and therefore more than 1.3 billion people have the right to speak on Hong Kong's political reform."
That was too much even for the current head of Hong Kong's government. Chief Executive Leung Chun-ying, not known as a fan of Benny Tai and Occupy Central, today had to distance himself from the overheated rhetoric of the Global Times. "Nobody should place Hong Kong people in confrontation with mainland Chinese citizens," he said.
Unlike the firebrands at the Global Times, Leung may have realized that lashing out at Occupy Central may only make the pro-democracy group stronger. Activists are focusing on the election now, but they're still threatening to mobilize thousands of their supporters to blockade Hong Kong's financial district if they're not satisfied with the government's upcoming proposal on election reform. With that threat hanging over Hong Kong, Leung can't afford to have outsiders make Tai's group look even more like the embattled underdog deserving sympathy and support.
Before it's here, it's on the Bloomberg Terminal.
LEARN MORE