Carnival Foresees an End to the Era of Cheap Caribbean Cruises
By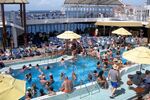 Cruise bargains are floating around the Caribbean and taking a toll on Carnival's financial returns.
The world's largest cruise line made more money than expected in the second quarter, with $106 million in profit exceeding the $41 million earned in the same period last year. But the company warned that its yields will come under more pressure in the third quarter due to the large glut of berths sailing in the Caribbean. Quarterly revenue rose to $3.63 billion, slightly above analysts' estimates.
Carnival has been striving to keep a floor under its cruise prices, even as the cruise industry has deployed a massive number of ships in the Caribbean this year and rivals have taken to aggressive discounting. Carnival executives have vowed to limit the bargains, which means occupancy on some sailings has dipped.
"We're making every effort to maintain price integrity despite aggressive pricing moves by some of our rivals," Carnival Chief Executive Arnold Donald said on June 24 on a conference call with analysts. That strategy is an important part of long-term profitability given that Carnival—and the rest of the industry—would like to obtain higher prices for cruise vacations than it does now.
Donald also described "an inflection point" this spring in the company's drive to recover from a disastrous 2013, when a fire aboard the Carnival Triumph garnered widespread news coverage around the world and depressed sales across the industry. "We've turned a bit of a corner," Donald said.
The Caribbean capacity surge should begin to abate in the final three months of 2014, Carnival executives predicted. By 2015—especially in the summer—Carnival expects cruise lines to decrease the number of ships in the Caribbean, which is expected to lead to higher prices in the region. "We're holding the price and giving up the occupancy, and that's worked very well for us over the last year," Chief Financial Officer David Bernstein said. "We'll keep looking at that."
Carnival shares fell 2.7 percent in morning trading on June 24 and are off 4.5 percent this year, mainly due to the weak pricing. The Miami-based company has 101 ships, with seven more expected to come online during the next three years.
Before it's here, it's on the Bloomberg Terminal.
LEARN MORE