Morgan Stanley Rejected Almost 89,000 Summer Hires This Year
By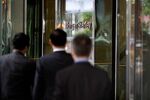 If you got rejected for a Morgan Stanley internship this summer, don't worry: About 89,000 people feel your pain.
The financial-services company received about 90,000 applications for summer analyst and associate positions and offered jobs to less than 2 percent of them, according to Bloomberg News. In the past few weeks more than 1,000 summer hires started work at Morgan Stanley's summer program in offices around the world.
That's a rejection pool larger than the population of Trenton, N.J., and an acceptance rate lower than that of Harvard College, which accepted 5.9 percent of its applicants this year.
Business schools are helping to fuel the demand for temporary analyst and associate jobs like the ones at Morgan Stanley. (In summer finance intern parlance, analysts are typically undergraduates; graduate-level interns are called associates.) For the past three years undergraduate business majors have sought more banking and financial-services internships than those in any other field, according to data compiled by Bloomberg Businessweek. Twenty-four percent of undergraduates surveyed for Businessweek's 2014 undergraduate business school rankings said they were pursuing an internship in the field, more than double the number of students looking to intern in consulting, which was the second-most popular.
The elite group of students who make Morgan Stanley's cut over the summer have a shot at a postgraduation job. "We hope that after graduation [the summer analysts and associates] will join our Full-Time programs as the newest generation of talented professionals at our firm," Chief Executive Officer James Gorman wrote in an internal memo.
They probably hope so, too, particularly if they're MBAs. Business school graduates still flood Wall Street once they get their degree. A report this month from the Graduate Management Admission Council says 26 percent of graduating MBAs with job offers were headed into finance, edging out the 21 percent who got consulting jobs.
Before it's here, it's on the Bloomberg Terminal.
LEARN MORE