Mr. Kim Invests Abroad as Holdings Top 2010 High: Korea Markets
Kyoungwha Kim and Whanwoong Choi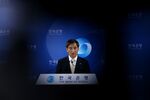 The won's world-beating rally is encouraging South Koreans to invest abroad at a time when global funds are snapping up local equities and bonds.
Retail investors held $13.1 billion of overseas securities at the end of May, the highest since October 2010, according to Korea Securities Depository figures. Foreign-currency deposits by residents climbed 23 percent this year to a record $59.6 billion on May 31 following a 34 percent increase in 2013, official data show. The won's 14 percent advance in a year is the best among 31 major currencies tracked by Bloomberg.
The stronger won is prompting Kim Won Chul and his wife to emulate Japanese households that are fed up with record-low domestic interest rates and seek higher returns abroad. While Kospi stock index has fallen this year, the 3.8 percent return for South Korea's local-currency sovereign bonds compares with gains on similar emerging-market notes of 5.1 percent in Asia and 9 percent in Latin America, Bloomberg indexes show.
"My Brazilian bonds pay a half-yearly coupon of 10 percent and will do so until they mature in 2023, unless Brazil goes bankrupt," said Kim, 43, the deputy branch head of a local brokerage in Seoul and a father of two, who invested 150 million won ($147,314) of his family savings in the notes six months ago. "I will buy 100 million won more after the end of the soccer World Cup. The exchange rate is very favorable."
'Too Low'
The average interest rate on time deposits at commercial banks in April was 2.6 percent, the least in Bank of Korea data going back to 1996. The extra yield 10-year sovereign notes offer over U.S. Treasuries was 61 basis points today, near a six-year low of 55 basis points reached on Dec. 27. The Kospi has declined 0.8 percent this year.
"From a domestic investor's perspective, bond yields are too low and the stock market isn't a profitable option," Kim Kang San, head of financial marketing team at Mirae Asset Life Insurance Co. in Seoul, said in a June 21 phone interview. "There's increasing demand for high-yield bonds in the U.S., Europe and emerging markets."
Purchases of overseas securities by South Korean financial institutions jumped $5.9 billion, the most since June 2008, to $80.3 billion in the first quarter, central bank data show. That included a 34 percent jump in bond investments to $27 billion.
Capital Inflow
The outbound investments are providing some respite to policy makers battling to slow the won's advance in the face of capital inflows and the nation's current-account surplus. Global investors have purchased a net $5.9 billion of South Korean stocks and bonds this quarter as they seek to diversify holdings beyond developed markets and bet a recovery in the nation's economy will fuel further currency appreciation.
"This can help offset the tide of capital flowing into Korea and curb appreciation pressure on the won," Wai Ho Leong, an economist at Barclays Plc in Singapore, said in a June 10 e-mail interview. "The trend is no different from the diversification strategies that sovereign wealth funds and pension managers abroad are pursuing."
The Bank of Korea predicts growth in Asia's fourth-largest economy will accelerate to 4 percent this year from 3 percent in 2013 and 2.3 percent the year before. The median estimate of 38 economists surveyed by Bloomberg News is for gross domestic product to increase 3.6 percent in 2014.
Current Account
South Korea had a current-account surplus of $7.12 billion in April, a 26th monthly excess, according to central bank data. The surplus in the broadest measure of trade reached a record $80 billion in 2013.
The won climbed to 1,015.25 against the dollar on June 10, the highest since August 2008, and was little changed at 1,018.35 today in Seoul, according to data compiled by Bloomberg. The yield on benchmark 10-year government bonds reached a one-year low of 3.21 percent today, down 37 basis points from the end of 2013, according to Korea Exchange prices.
"Domestic yields are too low," Kim, the deputy branch head, said by telephone yesterday. He asked that the brokerage he works for not be named because he was speaking about his personal investments. "The biggest challenge facing individuals is how to hedge against foreign-exchange risk, but the won is very favorable for going overseas."
Before it's here, it's on the Bloomberg Terminal.
LEARN MORE