Cambridge University's $6 Million Chinese Donation Just Got More Complicated
by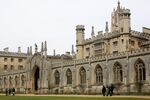 China's rapid economic growth and rising international clout pose a number of challenges for Western colleges and universities, including how to capture some of the benefits for themselves. Duke University, for example, has established a campus there. Many institutions are wooing Chinese students and working on strategies to milk the country's wealthy elite for money. They'd be crazy not to.
Still, universities that purport to uphold the objective pursuit of knowledge and independent inquiry have a delicate dance to perform with a one-party state that's a heavy-handed opponent of free expression. Cambridge University in the U.K. is the latest Western institution to face criticism as it tries to work out the right steps.
Earlier this month, the Telegraph newspaper reported that a large donation Cambridge received in 2012 came from the family of China's then No. 2, Wen Jiabao. When the £3.7 million ($6.3 million) gift to create an endowed chair in Chinese development studies was announced, no one had ever heard of nor could find anything out about the donor, the Chong Hua Foundation.
The money also came with strings attached: that the first recipient of the chair be a Cambridge business professor named Peter Nolan. The Telegraph reported discontent among some faculty members about the lack of transparency around the donation, particularly given Nolan's known ties to the family of the then Chinese premier. Cambridge insisted that it was duty-bound to honor the donors' request for anonymity, and said a thorough vetting had found no link to the Chinese government.
Cut to this month, when the Telegraph dropped its scoop that Chong Hua is controlled by Wen Ruchun, Wen Jiabao's daughter. Ms. Wen is a former student of Professor Nolan, according to the Telegraph.
Nolan has every reason to play nice with the Chinese government. For one thing, his sideline job at Cambridge is running the China Executive Leadership Program (CELP), which brings over a group of senior executives of state-owned companies from China every year for training. The program is co-sponsored by a department within the Chinese Communist Party and a research center that's part of China's State Council—the equivalent of the Cabinet in the U.S.
Nolan is also joint director of the Cambridge China Development Trust, according to the most recent publicly available report on the U.K. Charity Commission's website, for 2012. Created in 2005, the trust's main activity is funding the China Executive Leadership Program. Trust reports from 2009 through 2012, the ones available online, show that it supported Dr. Liu Chunhang as a senior research associate for those four years. Liu, with whom Nolan has co-authored a book, is married to Wen Ruchun and is an official at China's banking regulator.
Looked at in the worst possible light, Nolan's high-powered friends seem to have bought him a promotion. That doesn't mean it has changed his mind or his scholarship. Nolan did not respond to an e-mail requesting comment.
Cambridge bears the larger responsibility. Did the university really vet the donation and find, as many journalists did, not much at all about Chong Hua and simply decide to run with it? Did anyone question Nolan thoroughly about his ties to the donors? If they did, did they really think it honest to say that a foundation controlled by the Chinese premier's daughter had no links to the Chinese government? Some people might question how Wen Ruchun, who is now a Chinese government official according to the Telegraph, found herself so awash in millions to be given away.
Cambridge has continued to deny that Chong Hua has links to the Chinese government, adding only one additional piece of information—that Chong Hua is registered to a trust in Bermuda, according to the Telegraph. In response to questions from Bloomberg Businessweek, the university's media relations office e-mailed the following statement: "This donation from the Chong Hua Education Foundation was fully verified and approved by the University of Cambridge Advisory Committee on Benefactions. No more details will be released as the donors, as is common practice, have requested complete anonymity."
Future recipients of Chinese largesse take note: The appearance of conflict of interest can be just as damaging as actual conflict.
Before it's here, it's on the Bloomberg Terminal.
LEARN MORE