Schroders Says Dubai Bear Market to Offer Opportunities
Sarmad Khan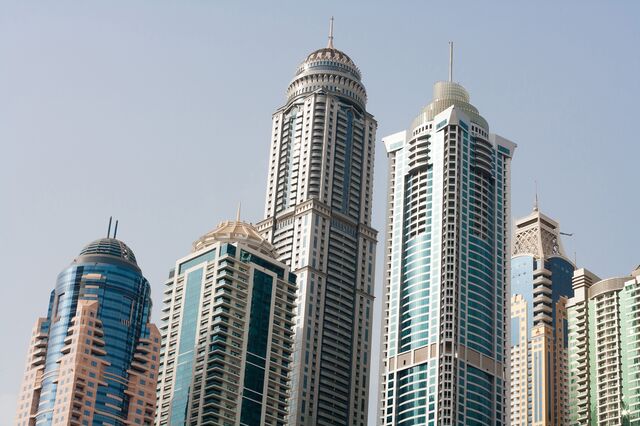 The selloff that ended Dubai's biggest bull market since 2005 is opening doors for long-term investors, according to Schroders Plc.
"The market is now starting to offer very good entry points," Dubai-based Rami Sidani, who oversees the $343 million Schroders International Selection Fund, said by telephone yesterday. "Smart money and international investors" who missed Dubai's rally have stayed on the sidelines and will now jump in, he said.
The DFM General Index entered a bear market yesterday after falling 20 percent from a high on May 6. The drop was led by real-estate stocks including Arabtec Holding Co., which tumbled as the second-biggest shareholder cut its stake, the chief executive officer resigned and the company dismissed staff. Dubai's main measure plunged 6.7 percent to 4,009.01 at the close in the emirate.
Dubai shares entered a bull market in January 2012 amid a real-estate recovery and boom in trade and tourism in the Middle East business hub. The benchmark index's 14-day relative strength index has dropped to 27.5. A level below 30 typically indicates to analysts the stocks are oversold and are poised for a rebound.
"There is remarkable value on offer in the United Arab Emirates," Amer Khan, senior executive officer at Shuaa Asset Management in Dubai, which oversees more than $300 million in assets, said by telephone yesterday. "The next big catalyst is second-quarter earnings and headed into that you would expect the fundamentals to take over again."
Dubai's economy expanded 4.6 percent in 2013, the fastest since 2007, according to a June statement from the Dubai Statistics Center.
'Healthy Correction'
Even after the drop since the peak in May, Dubai's index is the world's third-best performer in dollar terms among more than 90 tracked by Bloomberg so far in 2014. The gauge is valued at 1.6 times net assets, a 1.9 percent premium over the MSCI Emerging Markets Index. It traded at an average discount of 39 percent during the past three years, data compiled by Bloomberg show.
Dubai's measure has fallen an average 34 percent during 11 previous bear markets, according to data compiled by Bloomberg. The retreats have lasted 139 calendar days on average, versus 48 days for the current selloff.
The slump is a "healthy correction," Saleem Khokhar, head of equities at NBAD Asset Management Group, which oversees about $2.5 billion, said by telephone yesterday. "It needed to happen."
Arabtec dismissed a "limited" number of staff to cut costs and improve productivity, the company said in a statement today. The measures were aimed at preserving the rights of shareholders and keeping in mind investors, it said.
(An earlier version of this story corrected RSI data in the fourth paragraph and added 'yesterday' in the seventh paragraph.)
Before it's here, it's on the Bloomberg Terminal.
LEARN MORE