New Jersey's New Plan for Sports Gambling
By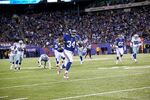 New Jersey's effort to legalize sports betting suffered a setback on Monday. The U.S. Supreme Court refused to rule on the state's dispute with sports leagues that sued to prevent casinos and racetracks from taking bets on sports. Now Ray Lesniak, the Democratic state senator behind the bill that sparked the case, says he has another plan to put legalized betting in place in time for the Sept. 8 opening of the New York Giants' NFL season. Lesniak says New Jersey is within its rights to legalize sports gambling so long as the state doesn't regulate it.
No, that logic is not easy to follow. But then, U.S. gambling laws are full of convoluted distinctions. The federal government outlawed sports betting in 1992 but let any states that were already taking bets continue to do so under the Professional and Amateur Sports Protection Act, or Paspa. (Congratulations to Nevada, Delaware, Oregon, and Montana.) The law actually gave New Jersey a chance to join those states if it could legalize sports betting within a year.
New Jersey missed the deadline by about two decades. In 2012, voters passed a referendum changing the state's constitution to allow sports betting. Sports leagues and the Department of Justice quickly joined legal action against the state. This wasn't unexpected—New Jersey was hoping to use a fight over its law as a jumping-off point to challenge the federal legislation. But it lost in federal court, and then the U.S. Supreme Court decided against coming to its rescue.
Even as courts ruled against New Jersey, they said the state was allowed to simply get rid of gambling prohibitions. "We do not read Paspa to prohibit New Jersey from repealing its ban on sports wagering," wrote judges from the U.S. Court of Appeals for the Third Circuit in an opinion issued last September. What the law does is forbid states from actively encouraging sports gambling by issuing licenses and promoting such activity. "We do not see having no law in place governing sports wagering as authorizing it by law," the judges wrote.
Lesniak takes this to mean that it's open season for unregulated sports gambling. He plans to introduce a bill that would remove the ban on sports gambling at casinos and racetracks, while removing the previous attempts to license and regulate the activity. "It's a bizarre claim, but we're taking them up on this," he says.
This is shaky ground on which to pursue public policy. New Jersey's judicial loss wasn't particularly close. The sports leagues that were worried about their reputations being ruined by regulated gambling aren't likely to look fondly on unregulated gambling. At best, this effort seems like a way for the lawyers involved to have a reunion in the near future.
The leagues may oppose this idea, says Lesniak, but the Justice Department was the one that put forth the argument that made it into the court decision, so it should stay on the sidelines if New Jersey wants to let sports gambling run wild within its borders. There is recent precedent for the federal government essentially agreeing to disagree with states on similar issues: "Federal law prohibits manufacture and distribution of marijuana, but they haven't stepped in to stop Colorado and Washington from legalizing it," Lesniak says.
The other question is whether politicians and businesses want to play along. Governor Chris Christie backed New Jersey's first attempt to legalize gambling, but he may not sign on to another attempt now that the courts have shot down the first try. This isn't an issue likely to resonate with Iowa Republicans.
Then there are the casinos and racetracks themselves, many of whom also have to worry about the world beyond New Jersey. Regulators tend to consider what companies are doing everywhere they do business, and running a gray-market sports book in Atlantic City is not the best way to illustrate that everything is on the up-and-up. The plan could, however, be a lifeline to desperate Jersey-only operations like the bankrupt casino Revel. "In Revel's case, it might be the only chance it has," says Lesniak.
So unregulated gambling might be good for a failing casino or two, but without regulations, what's to protect bettors from scam artists and hucksters? Lesniak's response to this question is a common one among advocates of liberalized approaches to gambling (or marijuana, or prostitution, or needle exchanges): "They're already unprotected." People without a legal option for betting simply find illegal options, which are often run by organized criminals. "I'd rather leave it in the hands of the casinos and racetracks," Lesniak says.
Before it's here, it's on the Bloomberg Terminal.
LEARN MORE