Lance Armstrong Faces $120 Million Fraud Suit
Paul M. Barrett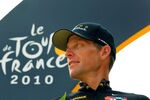 Disgraced cyclist Lance Armstrong still believes he's the victim. That's the upshot of a series of vivid anecdotes in the "afterword" of the soon-to-be-published paperback edition of Wheelmen, the definitive account of the Armstrong doping scandal by Wall Street Journal reporters Reed Albergotti and Vanessa O'Connell.
Sure to feed Armstrong's Olympian capacity for self-justification is a recent ruling by a federal judge in Washington clearing the way for a $120 million whistle-blower lawsuit against him. The suit accuses the ex-champion of defrauding the government by using performance-enhancing drugs.
According to Andrew Zajac of Bloomberg News:
Judge Robert Wilkins, rejecting Armstrong's bid to have the case dismissed, said the claims made in a lawsuit by former teammate Floyd Landis were sufficient to let the lawsuit continue. Landis's complaint is "rife with allegations that Armstrong had knowledge of the doping, and that he made false statements to conceal the doping and the attendant obligation which would have resulted if the government had known of the doping," Wilkins wrote. [...]
Armstrong, 42, is accused of defrauding the government by using banned substances in violation of his team's contract with the Postal Service. The U.S. is seeking triple damages in the case, and Landis, who also admitted to using performance enhancing drugs as a cyclist, could share in any award under U.S. whistle-blower law.
In the fresh final chapter of their page-turning book, Albergotti and O'Connell report that Armstrong has spent much of the past year privately communicating with U.S. antidoping officials—often via text message—in hopes of striking some kind of deal that would modify his excommunication from cycling in exchange for his finally coming fully clean about past corruption. Armstrong has suggested, according to the authors, that if the antidoping authorities could get the Department of Justice to drop the civil fraud suit, he'd be more inclined to cooperate. Armstrong has indicated in his cryptic messages that he feels it's unfair that other cyclists haven't been punished as severely as he. A deal never happened, and now the fraud suit appears to be moving toward trial.
Armstrong remains "as defiant, evasive, and self-justifying as ever," Albergotti and O'Connell write. "While he may hold the keys to his own redemption, he has yet to use them." Perhaps the prospect of another round of public humiliation, combined with the potential for multimillion-dollar liability, will finally change Armstrong's thinking and lead to a constructive settlement of the federal suit.
Before it's here, it's on the Bloomberg Terminal.
LEARN MORE