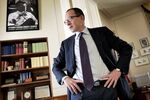 In January 2010, federal agents swept through Las Vegas, arresting gun company executives who had collected there for the industry's annual trade show. The headline-generating roundup related to an undercover investigation in which senior employees of Smith & Wesson and other companies were accused of violating the Foreign Corrupt Practices Act (FCPA) by seeking to pay off people they thought were African government representatives. The alleged kickback recipients were, in fact, FBI informants.
"This is one case where what happens in Vegas didn't stay in Vegas," Lanny Breuer, then an assistant attorney general, said at a news conference.
The case soon began to deteriorate, however, and now it has utterly imploded. In February 2012, the Justice Department dropped the prosecution of 16 defendants charged in the sting involving a phony military contract. And in recent days, Smith & Wesson said in a securities filing, the department decided not to pursue FCPA charges against the publicly traded company. The Wall Street Journal's Risk and Compliance blog summarized the latest developments:
The Justice Department in 2010 unsealed an indictment of a Smith & Wesson vice president of sales, who has since left the company, as a part of a foreign-bribery prosecution of nearly two dozen individuals that eventually collapsed. The Justice Department dropped the charges against the former executive.
The company wasn't charged in the indictment, but has said it was served with a grand jury subpoena for the production of documents. Smith & Wesson didn't say when the Justice Department dropped the investigation, but said prosecutors noted the firm's "'thorough cooperation' in correspondence to the company." The Justice Department and Securities and Exchange Commission declined to comment. Meanwhile, the company said it is in "the final stages of discussions" with the SEC to settle an investigation of securities-law violations that appears to have stemmed from the DOJ foreign bribery probe.
Deterring corruption is all well and good, but in the wake of this disaster, it sounds like federal officials owe the U.S. gun industry an apology. Lanny Breuer, who was so quick with a quip when the FBI was making showy arrests, might be one candidate to offer the mea culpa.
Breuer left the Justice Department last year and today serves as vice chairman of the large Washington law firm Covington & Burling. According to the firm's website, he "specializes in helping clients navigate corporate crises, anti-corruption matters … and other criminal and civil matters presenting complex regulatory, political, and public relations risks." No doubt he'd sympathize with a corporate client like Smith & Wesson that saw its name sullied by a misbegotten investigation that prosecutors turned into a Las Vegas spectacle.
Before it's here, it's on the Bloomberg Terminal.
LEARN MORE