The New Warmal: Global Temps Break Another Record
By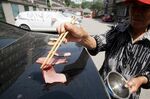 The average temperature of Earth's surface last month exceeded all other Mays before it, since recordkeeping began in 1880, according to new data from the National Oceanic and Atmospheric Association.

The monthly temperature was 1.33 degrees Fahrenheit higher than the average May. That may not seem like much, but on a planetary scale, it's huge. It ties the highest departure from average for any single month, in weather records that predate electric lights in Manhattan.
But the truly disturbing part isn't that we've hit a new record. It's that we live in a season of new records. This may be the the new warm normal. To find previous hottest Mays, you don't have to search far; four of the five hottest Mays on record have occurred since 2010. More difficult is finding a cool May. The last time the month fell below its 20th-century average was 39 years ago.
The planetary hot streak is driven by rapidly rising levels of greenhouse gases in the atmosphere since the industrial revolution. Global warming is already being felt around the world, resulting in bigger heat waves, rising seas and changing patterns of precipitation. No one under age 30 has been alive for a single month when the planet's average surface temperature was below average.
The heat in May was felt differently around the globe. Central Asia was practically frying, while swaths of Europe and China were at or below their normal temperatures. In the U.S., roughly 37 percent of the contiguous land was in drought, as conditions deteriorated in Kansas and Oklahoma. A third of California is now rated 'exceptional drought,' the highest category.

The average temperature for land and ocean surfaces in May was 58.6 degrees. That's the hottest on record and ties for the most extreme departure from normal with June 1998, October 2003 and July 2009.

Last month's heat coincided with an El Nino forecast that looks increasingly likely. There's an 80 percent chance that an El Nino will develop in the Northern Hemisphere in the next year, according to NOAA's Climate Prediction Center. The Pacific goes into an El Nino phase when surface waters warm off the coast South America. El Ninos can bring precipitation and temperature extremes the world over.
Get used to it. Such weather patterns, it would seem, may be just another part of the new warm normal.

More from Tom Randall:
Follow @tsrandall on Twitter for more things that aren't normal.