BMWs and Other Luxury Cars Leave Pickups in the Dust
by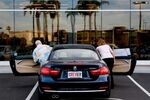 Luxury cars may be replacing pickups as the American ride of choice. U.S. drivers are clamoring for BMWs, Audis, and Infinitis this year, buying plush vehicles at a far faster pace than other cars or even the traditional favorite Ford F-150.
In the first five months of the year, luxury automakers sold almost 66,000 more vehicles in the U.S. than they did a year earlier, an 11 percent increase. Lincoln and Lexus in particular were stomping on the sales pedal. Sales of midsize cars such as the Honda Accord—the biggest segment of the U.S. market—slipped 3.6 percent, while truck sales—another huge chunk of the market—were up 4.6 percent.

Why are so many U.S. buyers springing for an opulent car? A relatively robust stock market helps, as does an improving overall economy. But there's something far more interesting going on. A lot of Americans aren't really buying new BMWs and Benzes after all; they're renting them—or leasing, to be specific.
Leasing now accounts for a bigger share of auto sales than ever, according to Bloomberg Industries analyst Kevin Tynan. Consumers are feeling fairly flush but are still spooked about taking on large amounts of debt, Tynan says. What's more, resale values are up, so companies are offering better leasing terms, confident that the vehicle will still be worth a tidy sum when the agreement runs its course.
Luxury drivers are more likely to lease than those to choose less pricey vehicles. About half of the Mercedes sedans rolling off of lots these days are leased, compared with 13 percent of big trucks like the Chevy Silverado.

For those who want to buy, it's gotten easier to be a luxury car owner. Mercedes is now selling its CLA for about $30,000. (It doesn't have the company's famed rear-wheel drive, but it does have the logo on the hood.) Audi is making a similar play with its new A3, and BMW is shifting down-market as well with its 2 Series. Not surprisingly, aggregate sticker prices for the luxury segment aren't nearly as high as they were last year.

So the car-buying process now includes a socioeconomic strategy question. Namely, is a starter Mercedes or a run-of-the-mill Lincoln more luxurious than a Mazda or a Ford Fusion with all the extras? That's for drivers (and their neighbors) to decide.
Before it's here, it's on the Bloomberg Terminal.
LEARN MORE