Mayors Led by De Blasio Create Inequality Task Force
Darrell Preston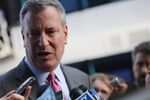 U.S. mayors led by New York City's Bill de Blasio are creating a task force to examine ways to combat the economic inequality in America's cities.
"We are living in a time of rising inequality and declining opportunity," De Blasio, a self-described progressive Democrat who won election in November by the largest percentage-point margin of any non-incumbent in New York history, said today in an e-mailed statement. "This is a threat to our fundamental values and an obstacle to the nation's economic growth."
De Blasio, who has made universal pre-kindergarten and affordable housing priorities of his administration, announced the creation of the task force during the annual meeting of the U.S. Conference of Mayors in Dallas along with Sacramento Mayor Kevin Johnson, president of the cities' group.
"The purpose of cities is to lift up residents and build a community and economy that works for everyone," Johnson said. "That means having a higher minimum wage, expanding the supply of affordable housing and ensuring every child has access to pre-k."
The year-long task force, with De Blasio as chairman, will develop and share governing processes to make equity a central principle, according to the statement.
The 200 mayors attending the Texas meeting are looking at other issues including immigration laws, transportation, education and housing.
Before it's here, it's on the Bloomberg Terminal.
LEARN MORE