Kerry in Egypt to Discuss Security, Political Freedom
Nicole Gaouette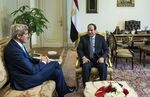 Secretary of State John Kerry said full U.S. aid for Egypt is set to resume and pledged support for the country's economy after talks in Cairo with newly elected President Abdel-Fattah El-Sisi.
"I am confident we will be able to get the full amount of aid," including the delivery of Apache helicopters "very soon," Kerry said at a press conference in the Egyptian capital yesterday.
His unannounced stop there is part of a week-long trip the top U.S. diplomat is making through the Middle East and Europe to discuss upheaval in the region, particularly in Iraq, where Sunni Muslim jihadists have seized territory in the north.
In the months since the military under El-Sisi ousted former President Mohamed Mursi, Egyptian authorities have jailed journalists, constrained civil society groups, restricted the public's ability to gather and protest and cracked down on the Muslim Brotherhood, the group that backed Mursi. The government says the Brotherhood is linked to a wave of attacks on security forces, which the group denies.
The U.S. has responded to the crackdown by withholding military aid to its longtime ally. This year it released only $575 million of the annual $1.3 billion in assistance it gives Egypt's army, according to a U.S. official, who wasn't authorized to speak publicly.
Economic Support
U.S. officials say Egypt must take steps to ease the repression before additional aid can be released. Kerry said that El-Sisi told him a review of the judiciary and human rights laws is under way.
A court in the city of Minya on June 21 ratified death sentences for 183 Mursi supporters, sentenced four to life in prison and acquitted 496, according to a faxed statement.
Kerry said the U.S. is "deeply committed" to helping Egypt succeed, and will work with allies Saudi Arabia and the United Arab Emirates to support the Egyptian economy. The two oil-rich Gulf nations are opponents of Mursi's Muslim Brotherhood, and have pledged billions of dollars of aid since the army toppled his government.
Before it's here, it's on the Bloomberg Terminal.
LEARN MORE