Bullish Oil Wagers Reach Record as Fighting Engulfs Iraq
Moming Zhou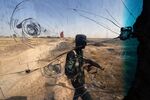 Hedge funds increased bets on rising crude prices to a record as fighting in Iraq threatened to disrupt supply from OPEC's second-biggest member.
Speculators raised their net-long position in benchmark West Texas Intermediate by 4.3 percent in the week ended June 17, U.S. Commodity Futures Trading Commission data show.
Futures reached a nine-month high on June 13 after fighters from the Islamic State in Iraq and the Levant, or ISIL, seized the northern city of Mosul and advanced toward Baghdad. While production remains unaffected in the south, home to about three-quarters of Iraq's output, companies including Exxon Mobil Corp. and BP Plc began evacuating employees.
"The betting is that there's a greater chance that the price will go up further," Michael Lynch, the president of Strategic Energy & Economic Research in Winchester, Massachusetts, said by phone on June 20. "The fighting is almost certainly going to escalate, and the worse it gets, the more likely you'll have some threat to the oil supply."
Futures gained 1.9 percent to $106.36 on the New York Mercantile Exchange in the period covered by the CFTC report. Crude oil for August delivery fell 66 cents, or 0.6 percent, to settle today at $106.17. Implied volatility for WTI options, a measure of expected futures movement, jumped to 17.9 percent on June 13 from 12.8 percent on June 6, according to data compiled by Bloomberg.
Market Risk
Iraq pumped 3.3 million barrels a day of oil of last month, second to Saudi Arabia in the Organization of Petroleum Exporting Countries. Production increased 52 percent from 2.17 million in September 2008, data compiled by Bloomberg show.
President Barack Obama said June 19 that the U.S. will deploy as many as 300 special advisers to help blunt the insurgency.
"There's an anxiety premium of $5 to $10 in the price for WTI," Nansen Saleri, the chief executive officer of Quantum Reservoir Impact LLC in Houston, said by phone last week. "There's a risk right now, but it's a manageable risk because global supply exceeds demand," said Saleri, the former head of reservoir management at Saudi Arabian Oil Co.
The conflict also is helping boost U.S. gasoline prices. Futures rose to $3.1277 a gallon, an 11-month high, on June 20. Regular gasoline at the pump, averaged nationwide, increased 0.1 cent to $3.683 a gallon yesterday, the most expensive since May 1, according to AAA in Heathrow, Florida.
Hedge funds and other money managers boosted net-long bets on gasoline by 8 percent to 61,910 futures and options in the week ended June 17.
Energy Agency
The International Energy Agency forecast that Iraq will provide about 60 percent of OPEC's production growth in the rest of this decade. The country's output capacity will increase by more than 1.2 million barrels a day in the six years through 2019, the Paris-based group estimated in a June 13 report.
"Surging violence also means that Iraqi oil output is now unlikely to rise above current levels," Bank of America Corp. analysts including Francisco Blanch said in a report June 15. "Longer term, the risks have also risen as investment projects could be canceled or delayed."
In other markets, money managers' bullish wagers on ultra low sulfur diesel climbed 75 percent to 27,131 contracts. The fuel gained 4.6 percent to $3.018 a gallon in the CFTC week.
Natural Gas
Net longs on U.S. natural gas rose 3.8 percent to 315,027 contracts, the first increase in eight weeks. The measure includes an index of four contracts adjusted to futures equivalents: Nymex natural gas futures, Nymex Henry Hub Swap Futures, Nymex ClearPort Henry Hub Penultimate Swaps and the ICE Future. Nymex natural gas advanced 4 percent to $4.709 per million British thermal units during the report week.
Net-long positions on WTI climbed 14,656 to 356,336 futures and options, the most in data going back to 2006. Long positions gained 16,927 and shorts gained 2,271.
Worldwide oil consumption will climb 1.3 million barrels, or 1.5 percent, to 92.8 million a day this year, the IEA said. Demand for crude from OPEC will rise to 30.9 million a day in the second half of the year, an increase of 150,000 barrels from the IEA's estimate last month.
The 12-member OPEC, which supplies about 40 percent of the world's oil, kept its production target unchanged at 30 million barrels a day when ministers met in Vienna earlier this month.
"This tightly balanced global market has for some time been one more unplanned supply outage away from a sharply higher price," Katherine Spector, a commodities strategist at CIBC World Markets Inc., said in report on June 16. "The rapid deterioration of what was already a tenuous stability in Iraq is a cogent reminder of that fact."
(An earlier version of this story corrected the WTI futures contract month.)
Before it's here, it's on the Bloomberg Terminal.
LEARN MORE