Rousseff Wins Nomination Pledging Change as Lead Narrows
Anna Edgerton and Raymond Colitt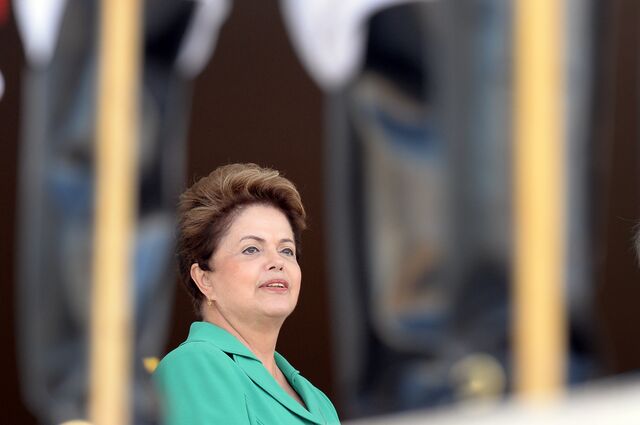 Brazil's President Dilma Rousseff won her party's nomination to run for a second term in October elections, pledging to implement change and continue social policies as her lead narrows in opinion polls.
"Lula changed Brazil and Brazil wants to keep changing," Rousseff, 66, said at the national convention of her Workers' Party, or PT, in Brasilia today, referring to her predecessor and mentor, Luiz Inacio Lula da Silva. "The next cycle of development will maintain two basic pillars: economic soundness and ample social policies."
While Rousseff has sustained a lead in polls amid near record-low unemployment and expanded social welfare spending, support has waned as the government struggles to control above-target inflation and stimulate a slowing economy. She was jeered by fans during the opening game of the World Cup on June 12.
Rousseff, who accepted the nomination under the banner 'More Change, More Future,' said she will seek to improve the efficiency of the state to create a "Brazil without bureaucracy." She said providing broadband Internet access to all Brazilians will be a goal for her second term.
"Eliminating extreme poverty is just a start," Rousseff told party members. "The people want more."
Rousseff's support among voters fell to 39 percent this month from 37 percent in April, according to a June 13-15 Ibope poll that pitted her against potential competitors. Candidate Aecio Neves, a senator and former governor of Minas Gerais, the country's second-most populous state, saw his backing grow by 7 percentage points to 21 percent.
The survey of 2,002 people has a margin of error of plus or minus 2 percentage points.
Lula Comeback
Rousseff's waning approval ratings had prompted some of her allies, including the majority of the lower house legislators in the Party of the Republic, to call for Lula to run in her place.
Forty-one percent of delegates at the national convention of the PMDB, the largest coalition partner, voted against Vice President Michel Temer's nomination as Rousseff's running mate in the Oct. 5 vote. Under Brazilian electoral law, the PT can change its candidate up until 20 days before the election.
Economic growth will ease to 1.8 percent this year from 2.5 percent in 2013, falling short of the Latin American average by nearly half a percentage point, according to analysts surveyed by Bloomberg.
Inflation quickened to 6.37 percent in May, the fastest in 11 months. Policy makers target inflation of 4.5 percent, plus or minus 2 percentage points.
Before it's here, it's on the Bloomberg Terminal.
LEARN MORE