Virginia Governor to Veto Measure Barring Medicaid Expansion
William Selway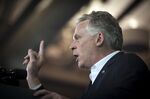 Virginia Governor Terry McAuliffe said he will find a way to expand Medicaid to the state's low-income residents, extending a clash with Republican lawmakers over President Barack Obama's health-care overhaul.
McAuliffe, a Democrat, told reporters in Richmond today that he would veto a provision in the budget aimed at keeping him from expanding the federal health-care program without lawmakers' consent. He said he directed his staff to come up with a plan for doing so by September, even amid opposition from the Republican-led legislature.
"It is unconscionable that one of the wealthiest states in one of the wealthiest nations on the globe is not providing care to their citizens," he said during a news conference. "We are going to provide health care for our citizens and we are going to pick the best option available to us -- plain and simple."
The governor, who was elected last year, has unsuccessfully sought to expand Medicaid to cover about 400,000 low-income Virginians under the Obama's Affordable Care Act. Republicans have opposed doing so, citing concern that it could add to the state's financial burdens if the federal government backs out of its commitment to fund it.
Statehouse Battles
The Obama health plan allows for states to expand the program to anyone making less than 138 percent of the federal poverty level, about $16,000 for an individual. The federal government pays all of the cost through 2016 before its share is pared back, leaving states paying no more than 10 percent beginning in 2020.
Whether to expand the program has been a divisive issue in states and left many low-earning Americans still without health-care coverage. By June 10, 26 states, including Republican-led Ohio and Michigan, have expanded the program, according to the Kaiser Family Foundation.
Republicans in Virginia's House of Delegates said McAuliffe has no authority to act without their consent and threatened legal action if he does.
"The Governor has no authority to expand Medicaid unilaterally or without the specific approval of the General Assembly," House of Delegates Speaker William Howell and other Republican leaders said in a statement today.
Rating Safe
The health-care fight delayed the passage of the state's budget until last week, after the surprise resignation of Democratic Senator Phil Puckett gave Republicans control of both chambers of the legislature. The state faced a potential shutdown if a budget wasn't signed by July 1.
McAuliffe said he would sign the budget, while using his power to veto selected provisions.
"Given the severe difficulty the General Assembly had in getting even this weak budget to me, I seriously doubt that they could have prepared a budget through next week without disrupting or impairing critical services or jeopardizing our AAA bond rating," McAuliffe said.
The governor said there are several ways that the state could expand Medicaid that are being reviewed, without providing details. He said he had "no illusions" that he would obtain Republicans' support.
"We are going to come up with creative ways to do the right thing," he said.
Before it's here, it's on the Bloomberg Terminal.
LEARN MORE