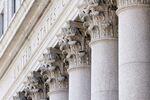 Patent trolls, be gone!
That's the message from the Supreme Court. In the latest in a series of intellectual-property rulings over recent years, the justices signaled that the lower federal courts should be closing their doors to the too-clever-by-half perpetual litigants who seek to patent abstract ideas and obscure imaginings and then hold up productive companies from bringing innovations to market.
Here's the background, summarized with characteristic pith by my colleagues Greg Stohr and Susan Decker of Bloomberg News:
Software developers can't get a patent simply for taking an abstract idea and implementing it on a computer, the U.S. Supreme Court said. … The justices unanimously rejected a bid by Melbourne-based Alice Corp. to patent a computerized system for limiting the risk that one party to a financial transaction will renege on its obligations. Writing for the court, Justice Clarence Thomas said the patent improperly covered a "fundamental economic practice."
The decision may give a new tool to Google Inc. (GOOG) and other companies fighting what they say are frivolous lawsuits over software patents. At the same time, the ruling stopped short of creating special standards restricting software patents. … Dozens of companies took positions in the case. Retailers and Internet businesses including Google and Amazon.com urged the court to weed out baseless royalty demands, while software makers led by Microsoft Corp. (MSFT) said overly strict limits on patents would reduce incentives to develop cutting-edge programs.
In a carefully crafted opinion, Justice Thomas emphasized that the court was not changing the rules, merely applying existing law to a patent claim that did not deserve judicial respect. The high court's perspective, if it wasn't clear before, surely is now: Yesterday's ruling marked the sixth time this year it has limited the power of patent holders. Trolls, beware!
Before it's here, it's on the Bloomberg Terminal.
LEARN MORE