Jobs Are Still Scarce for New Law School Grads
By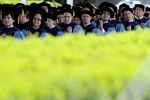 Job prospects for law school graduates aren't improving much. The overall employment rate for recent law grads fell for the sixth year in a row, to 84.5 percent, according to a report by the National Association for Law Placement, a professional association. The report, released on Thursday, surveyed the class of 2013 and found that even after slight improvement over the last two years, the employment rate remains well below an all-time high of 91.9 percent, reached in 2007 before the financial crisis hit.
At the same time, law schools enroll students who will amass plenty of student loan debt in their three years of study. They hope for a job right out of school, with a big enough salary to cover loan payments and living expenses. But the field of law was hit especially hard by the 2008 crash and subsequent recession. Work dried up for many large firms, and what few clients were still hiring lawyers had more bargaining power. They demanded rate discounts (lawyers bill by the hour), and special—or alternative—fees. They also pushed back on the training of newbie lawyers on their dime.
Law firms responded by trimming their ranks and substantially shrinking the number of lawyers hired right out of law school. It's not just big law firm jobs that went away. Public-interest, in-house counsel, and government positions also dipped.
In its survey, NALP measured the employment rate of 2013 law graduates as of February 15—nine months after the typical May graduation. The class of 2013 was one of the biggest in recent years, contributing to the decline in the overall employment rate. About 52,000 students entered law school in the fall of 2010, an all-time high. The graduates'  employment rate has rarely been lower. "Since 1985, there have only been two classes with an overall employment rate below [84.5 percent], and both of those occurred in the aftermath of the 1990-91 recession," NALP reports.
There is bit of good news here: More than half the graduates with jobs are working in private practice (big, medium, or small law firms), and the number of large law firm jobs increased. Also, the national median starting salary moved up, to $62,467 from $61, 245. (Median salaries at law firms rose 6 percent, to $95,000.)
Despite modest improvement in some areas, more telling numbers demonstrate just how tight the legal job market is. Of those graduates included in the report, only 64.4 percent were working in jobs that required passage of the Bar Exam—jobs that directly relate to their pricey law degrees. That number has fallen by about 10 percentage points over the past six years. The unemployment rate for 2013 graduates ticked up slightly, to 12.9 percent, from 12.8 percent for the class of 2012.
When you consider that average student debt for private law school hovers somewhere around $125,000, the less-than-robust job prospects should focus current or wannabe law students on answering tough questions. Is law school really the right choice? Can you afford it? Do you have a plan for how to repay your loans if you don't get a law job coming out of school? And are you all right with working at the local coffee bar, if that's the only way to make ends meet after graduation?
Hopefully they won't overlook the comments made by NALP executive director James Leipold in announcing the survey:
Law graduates must enter law school with the understanding that the jobs picture, while strengthening, is one that will continue to evolve, and in the course of that evolution it is almost certain that new opportunities will present themselves, just as it is certain that some traditional opportunities that law school graduates have long counted on will continue to erode. … It is not true that there are too many lawyers—indeed even today most Americans do not have adequate access to affordable legal services—but the traditional market for large numbers of law graduates by large law firms seeking equity-track new associates is not likely to ever return to what it was in 2006 or 2007, and thus aggregate earning opportunities for the class as a whole are not likely to return to what they were before the recession.
Before it's here, it's on the Bloomberg Terminal.
LEARN MORE