SoftBank CEO Wants to Boost U.S. Wireless Speeds for Less
Takashi Amano and Marco Lui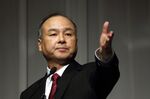 SoftBank Corp.'s Masayoshi Son said he wants to improve wireless connection speeds and lower monthly bills for U.S. customers as he pursues the acquisition of T-Mobile US Inc.
At SoftBank's annual shareholder meeting today, the billionaire chairman said he wants to expand in the U.S. because its population growth and gross domestic product both exceed Japan's. Son, whose company paid $22 billion for Sprint Corp. last year and is the largest investor in Alibaba Group Holding Ltd., said he believes the U.S. wireless industry is "one of the least satisfactory" in the world.
"I'm really determined to bring about better service at a lower price in the United States," Son said. "We could inspire other carriers in the United States."
Investors are focused on a potential bid by Sprint for T-Mobile because it would boost SoftBank's growth prospects as competition for wireless subscribers in Japan intensifies. SoftBank, the nation's third-largest carrier, faces slowing business as customers cut spending on voice services and shift to cheaper calling plans.
"SoftBank must go to overseas for growth as Japan's population is decreasing," said Mitsushige Akino, executive officer at Ichiyoshi Asset Management Co. "In the U.S. market, it is vital to expand shares, and to do that, the T-Mobile acquisition will be crucial."
Saturated Market
The shareholder meeting approved the election of three new board members.
SoftBank shares fell 0.1 percent to close at 7,783 yen in Tokyo trading. The stock has lost 15 percent this year, compared with a 2.6 percent decline in the benchmark Topix index. Sprint fell 0.7 percent to $8.46 yesterday.
SoftBank forecast operating profit, or sales minus the cost of goods sold and administrative expenses, will total 1 trillion yen ($9.9 billion) in the year ending March 31, the company said May 7. That would be a decrease of about 8 percent from the year before.
There are only three companies in Japan that have achieved more than 1 trillion yen in operating profit, and SoftBank reached that level the fastest, Son said today. Profit from the year ended March included one-time gains from Willcom Inc. and Gungho Online Entertainment Inc.
T-Mobile Deal
The number of subscribers departing SoftBank rose, and average revenue per user fell 2.2 percent to the lowest in at least eight quarters as the carrier sold more devices with cheaper plans and customers made fewer calls on its network, the company said in May.
"If you think of Japan, the mobile phone business is saturated," Edwin Merner, president of Atlantis Investment Research Corp. in Tokyo, said by phone. "To keep going they all have to discount, they have to offer more for less and that means less profits."
SoftBank last year paid $22 billion to expand in the U.S. with Overland, Kansas-based Sprint, which in April posted its 25th loss in 26 quarters. The company intends to spend $16 billion over two years upgrading its U.S. network in an effort to close the gap with market leaders Verizon Wireless and AT&T Inc.
"Through the information industry we have brought changes to Japan," Son said. "This is going to be the second stage."
Alibaba Stake
Sprint is nearing an agreement on the price, capital structure and termination fee for an acquisition of T-Mobile that could value the wireless carrier at almost $40 a share, people with knowledge of the matter have said. An agreement could be announced as soon as next month, the people said.
Deutsche Telekom AG, based in Bonn, owns about two-thirds of T-Mobile, and there are concerns by investors that Son may borrow too much money to complete the deal. The carrier has total debt of about 9.2 trillion yen, according to data compiled by Bloomberg.
"Before they buy T-Mobile they should sell part of Alibaba or pay back some debt so they don't carry too heavy a level of debt," said Cedric Araud, a fund manager at Capitalatwork Foyer Group SA in Luxembourg, which holds SoftBank shares. "First they should focus on making Sprint more profitable."
In response to one attendee's expression of concern that the company was accumulating too much debt, Son said: "SoftBank will prioritize growth and take on more debt, as far as it is within our repayment capability."
Faster Internet
Growth, even if it means borrowing additional funds, is critical for SoftBank, said 76 year-old Fumio Kosaka, a shareholder who supports Son's effort to acquire T-Mobile.
"Of course it is risky when the interest rate increases, but it is better than doing nothing," said Kosaka, who is from Saitama prefecture near Tokyo. "To some extent it's like gambling, but a company's strength can be retained by investing, otherwise it will just die."
Son, 56, has argued that as technology converges, a new market for Internet services is emerging in which AT&T, Verizon and Comcast Corp. are the three giants. He views a combined Sprint and T-Mobile as a counterweight, able to offer wireless high-speed Internet to compete with phone and cable modems.
SoftBank owns stakes in more than 1,000 Internet operations, including Alibaba, and stands to benefit when China's largest online retailer goes public in what may be the largest U.S. initial public offering ever. Alibaba's market value is estimated by analysts at $168 billion, according to data compiled by Bloomberg.
$58 Billion
At that valuation, SoftBank's stake of more than 30 percent in Alibaba is worth about $58 billion, assuming those shares translate into the same-sized holding in the listed company and there are no conditions on their ownership. The stake started as part of a $20 million investment in 2000.
SoftBank won't sell any of its shares in the IPO, Son said last month.
SoftBank, founded in 1981, has made almost 100 purchases since 2000, according to data compiled by Bloomberg. The company also owns stakes in Yahoo Japan Corp. and Supercell Oy.
Son's deals have helped make him the second-richest person in Japan with a net worth of $15.7 billion, according to the Bloomberg Billionaires Index.
Before it's here, it's on the Bloomberg Terminal.
LEARN MORE