Small Businesses May Be Even More Sick of Washington Than Most Americans
by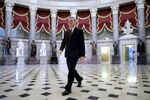 The new leader of the House Republicans, California Representative Kevin McCarthy, is one of dozens of members of Congress with a small business background (he once used $5,000 in lottery winnings to open a deli in Bakersfield). That representation hasn't satisfied Main Street business owners: Only 4 percent said Washington served them well in a new poll, and 35 percent said it served them "moderately well."
The country as a whole gives Congress a 16 percent approval rating right now, according to Gallup. It's hard to compare questions from two different surveys. But it's clear that small business owners have a dim view of their elected officials, according to the survey published today by the National Small Business Association.
There are about 28 million small businesses in the U.S., and according to the NSBA survey, their owners all vote. Or, almost all of the people the NSBA surveyed: 95 percent of the 1,800 business owners in the poll said they pull a lever in national elections. Small business owners are also good for campaign cash: 63 percent of respondents said they made donations to a political candidate.
No surprise, then, that candidates such as McCarthy play up their small business pedigrees. In 2010 alone, Americans sent 33 small business owners and entrepreneurs to Congress—a count that excluded those with professional practices such as doctors and lawyers, as well as those who sold or left their businesses more than five years before their election. Small business is second only to the military in institutions that most Americans trust, according to Gallup. (Congress's rating on that front: 7 percent have a lot of confidence in it.)
The NSBA survey, conducted online in May with a sample that included both members and non-members, found Republicans were less satisfied than Democrats, but neither group gave government high marks.
That's likely because Beltway gridlock has prevented Congress from enacting tax reform and reining in health-care costs, write NSBA Chair Jeff Van Winkle and CEO Todd McCracken in an introduction to the survey. "These actions are far more important than a hat-tip to small business during a stump-speech," they write. Or, for that matter, more important than any elected official's past experience on Main Street.
Before it's here, it's on the Bloomberg Terminal.
LEARN MORE