Mick Jagger Gets Antiquities Protection for Old Stones in Rome
by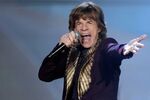 When the Rolling Stones announced in March that they'd be playing a concert in Rome's ancient chariot stadium, tickets sold out within hours. Just as quickly, archaeologists expressed alarm at the possibility that tens of thousands of fans flocking to the Circus Maximus would finish off what the sacks of Rome hadn't.
The oval-shaped park is flanked on one side by the Palatine Hill, whose fragile, red-brick ruins make perfect viewing perches for freeloaders. A fenced-off excavation site occupies the back of the venue itself—opposite the stage that's been erected for the June 22 concert. "The risks to the conservation of archaeological heritage are high and hard to predict," Mariarosaria Barbera, the culture ministry's special superintendent for archaeology in Rome, wrote at the time in a letter to city hall, portions of which were quoted by La Repubblica newspaper and other Italian media.
Now the local government, keen to attract tourists from cities such as London that aren't included on the current tour, has come up with a plan to protect the old stones: antiquities squads.
"Two teams will operate exclusively to protect the archaeological and cultural heritage present in the area of the concert and to prevent any intrusion attempts," Rome's city administration, which sits on the neighboring Capitoline Hill, said in a June 19 statement announcing the measures. The teams will consist of 10 people each and will monitor both the Palatine Hill and the monuments in the Circus Maximus. They'll be under the direction of the culture ministry office that originally raised the alarm.
"It's in everyone's interest that this is taken care of," says Darius Arya, director of the American Institute for Roman Culture, who is currently excavating at the ancient port city of Ostia Antica. "The worst-case scenario is someone is crawling around these sites unattended and they fall off a wall or some structure collapses."
Adding muscle to the effort, the event is also being policed by officers from four different forces, including the paramilitary Carabinieri, and aided by 1,000 stewards, according to the city hall announcement. Assuming the plans work, Romans can now focus on griping about the annoyance of hosting the event, which will shut down major roads running through the center of the Italian capital, reroute buses, and force the closing of the Circus Maximus subway station.
In theory, at least, residents will get the satisfaction of knowing their tax money wasn't spent on the effort. "The full costs incurred for extraordinary expenses of the local police, the occupation of public space, health services, the cleaning of the area, toilets, and the extending of the hours of the Metro B line will be paid by the organizers of the concert," the city hall statement said.
Before it's here, it's on the Bloomberg Terminal.
LEARN MORE