Philippines Has Tightening Bias as Tetangco Predicts Inflows
Karl Lester M. Yap and Cecilia Yap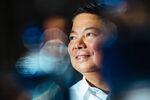 The Philippine central bank has "a tightening bias" in monetary policy and expects more inflows, Governor Amando Tetangco said a day after the authority raised a secondary interest rate while keeping the benchmark unchanged.
The central bank expects yesterday's increase in the rate it pays on special deposit accounts to create modest upward adjustments in interest rates, Tetangco said in an interview with Rishaad Salamat on Bloomberg Television today. The effect will be more immediate than a move in the benchmark overnight rate or an increase in reserve requirement ratios, he said.
"The Monetary Board felt such upward adjustment in market rates would be useful to help market participants reassess risks on their financial transactions in a more timely and less disruptive manner," Tetangco said. "Globally, we have been experiencing low volatility for sometime now, and risks seem to be gaining ground again. We don't want domestic markets to be unnecessarily carried or lulled by these developments."
Bangko Sentral ng Pilipinas is the first central bank among Southeast Asia's biggest economies to move toward tightening monetary policy this year as inflation climbs, using tools including the reserve requirement ratio and the special deposit accounts. Policy makers yesterday raised the SDA rate by a quarter of a percentage point to 2.25 percent after increasing the reserve ratio twice earlier this year.
Peso Gains
The peso rose 0.1 percent to 43.77 per dollar as of the noon trading break in Manila, according to Tullett Prebon Plc. The yield on the benchmark five-year bond rose 15 basis points, or 0.15 percentage point, to 3.95 percent, gaining the most since March 24, according to midday fixing prices at Philippine Dealing & Exchange Corp.
Bangko Sentral will raise its benchmark rate to 4 percent by the end of the year, Goldman Sachs Group Inc. said in a note yesterday. Wariness of the inflation outlook is appropriate given the strong domestic growth and positive output gap, it said.
While the Philippines hasn't seen unwarranted inflows, interest-rate differentials that are in the nation's favor and strong fundamentals could spur inflows and create asset bubbles, Tetangco said. Policy makers have tools to address such risks, he said.
The central bank kept the benchmark overnight rate at a record-low 3.5 percent yesterday. Gross domestic product increased 5.7 percent in the three months through March from a year earlier, slipping below 6 percent for the first time in nine quarters.
Bangko Sentral yesterday raised its inflation forecasts for 2014 and 2015, citing risks from the El Nino weather effect, higher food costs and potential increases in power prices. Money-supply growth exceeded 30 percent for a 10th straight month in April while price gains accelerated to a two-and-a-half year high last month.
Before it's here, it's on the Bloomberg Terminal.
LEARN MORE