Obama Says Quickly Arming Syrian Opposition a 'Fantasy'
Margaret Talev and Angela Greiling Keane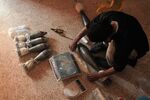 President Barack Obama called the idea that the U.S. could readily arm a moderate Syrian opposition force a "fantasy," saying his administration is still working to bolster rebel groups.
Obama, in an interview today with CBS News, said the more moderate elements of the opposition to Syrian President Bashar al-Assad is made of middle-class Syrians who are facing a battle-hardened regime. There is no "ready-made" opposition group for the U.S. to back with arms and military aid, he said.
"The notion that they were in a position to suddenly overturn not only Assad but also ruthless, highly-trained jihadists if we just sent a few arms is a fantasy," Obama said in an excerpt of the interview broadcast on the network's evening news program.
More than 160,000 people have been killed in the three-year fight between the Assad regime and its opponents. The conflict bred the Islamic State in Iraq and the Levant, or ISIL, an al-Qaeda offshoot that initiated the Sunni insurgency now threatening the Iraqi government.
Obama yesterday announced he's deploying special operations advisers to help Iraqi security forces in their battle against ISIL. In dealing with the situation in Syria, the president said the U.S. faces a challenge in identifying, training and mobilizing moderate opposition groups
"We had already tried to maximize what we could do to support a moderate opposition that not only can counteract the brutality of Assad, but also can make sure that in the minds of Sunnis they don't think that their only alternative is either Mr. Assad or extremist groups" such as ISIL, he said at the White House.
'Farmers and Dentists'
In the CBS interview today, Obama said critics of his approach in Syria oversimplify the situation in the rebellion.
"When you get farmers and dentists and folks who have never fought before going up against" Assad, it doesn't work, he said.
In a separate interview on CNN, Obama said his decision to send military advisers to Iraq while holding back direct action in Syria reflects the differences in the situations.
Deciding to aid Syrian opposition is "different from whether we have the capacity, for example, to send our own troops into Syria," Obama said on CNN "That's different from some of the decisions that we made and we are making with respect to how do we pull Iraq together."
Obama sat for interviews with CBS, CNN and NBC that were intended to focus on a June 23 summit that highlights steps the administration is pushing to improve the economic outlook for U.S. families. Those portions are set for broadcast the morning of the event.
Before it's here, it's on the Bloomberg Terminal.
LEARN MORE