pursuits
Netflix Signs Comedian Chelsea Handler, Expanding Battlefront With HBO
By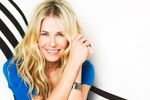 Today, Netflix further encroached into HBO's territory, announcing that the company had signed a deal with Chelsea Handler. The comedian will produce a range of new programming for the streaming network, including a stand-up performance, four "docu-comedy" specials, and a talk show.
How will the talk show format, forged over the past half-century on broadcast TV, translate to an on-demand network? Netflix provided scant details in today's announcement. The company's giving itself plenty of time to work out the kinks: Handler's show won't premiere until 2016.
In the meantime, today's news is likely to further inflame the growing rivalry between Netflix and HBO—despite Time Warner executives' efforts to downplay the competition at every opportunity. Last year, for the first time, Netflix topped the cable network in U.S. subscribers (HBO still dominates overseas), and the streaming service's growing investment in original programming continues to push into premium genres long dominated by HBO.
For decades, cutting-edge comedians have been a big part of HBO's brand. From George Carlin in the 1970s, to Garry Shandling's The Larry Sanders Show in the '90s, to Chris Rock's contemporary performances, HBO has always defined itself, in part, as the go-to destination for viewers wanting to see comedic acts that are deemed too edgy or too unusual for traditional TV.
Not unlike Chelsea Handler, circa 2014.
In March, during an interview with Howard Stern, Handler criticized E!, the network that currently airs her late-night talk show, and suggested she was ready to move her act beyond the creative confines of basic cable.
Once upon a time, that would have required landing a gig on HBO. No longer. ""If I was going to continue working in this industry, I knew I had to do something outside the box to keep myself interested," Handler said in today's release. "I wanted to sit with the cool kids at lunch, so I approached Netflix."
Recently, the Hollywood Reporter asked Cindy Holland, the head of original content for Netflix, about the possibility of getting into late-night comedy. "I don't think any genres are off-limits to us," Holland said. "We have a large subscriber base that consumes a wide variety of content, and we don't have any preconceived notions about what will or won't work on the service. We've been very focused on highly serialized hours and half-hours, and that will continue to be true, but I wouldn't close the door on any kind of experimentation."
So what's left for Netflix after late-night comedy?
Before it's here, it's on the Bloomberg Terminal.
LEARN MORE