National Parks Will Be No-Drone Zones
By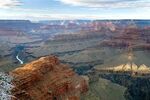 As U.S. aviation authorities devise regulations for unmanned aircraft, another federal agency has a message for visitors to national parks: Leave your drones at home.
"We have serious concerns about the negative impact that flying unmanned aircraft is having in parks, so we are prohibiting their use until we can determine the most appropriate policy that will protect park resources and provide all visitors with a rich experience," National Park Service Director Jonathan Jarvis said today in a statement. Several parks, including Zion in Utah and Arizona's Grand Canyon National Park, have already imposed bans because of complaints from visitors.
In September, park rangers in South Dakota confiscated a drone after it flew above visitors at the Mount Rushmore National Memorial Amphitheater and near the presidential carvings. In April, an unmanned aircraft disturbed a herd of bighorn sheep, "reportedly separating adults from young animals," the service said.
"This is a different kind of aircraft, and it is being used in different ways than what we have seen from the hobbyists," Jarvis told the Associated Press. "We want to have some control over it now before it proliferates."
The Federal Aviation Administration is working to formulate rules for commercial drone use as the industry has seen rapid adoption across many fields, from agriculture to video production to power utility inspection and firefighting. Earlier this month, the agency said it would consider applications from seven video production companies for exemptions that would allow them to use drones for filming. The agency also touted an unmanned aircraft flight by BP to survey an old field in Alaska as evidence that it is not seeking to hamper the nascent industry. Drone enthusiasts have criticized the agency for its slow response to the commercial growth.
Before it's here, it's on the Bloomberg Terminal.
LEARN MORE