Marc Andreessen Is Not Sorry for His 'Tweetstorms,' Rallying Tech's True Believers
By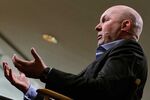 Marc Andreessen likes attention. That's been abundantly clear for years. Back in the Netscape days, he agreed to be photographed sitting on a throne and playing the part of king of "the golden geeks." He's been doing goofy things on magazine covers ever since. He's also been showing up at all manner of conferences, getting into high-profile boardroom wars, and issuing thought-provoking editorials.
In Andreessen's case, coveting attention isn't purely a vanity play. He's the co-founder of Andreessen Horowitz, which is now considered one of the premier venture capital firms in Silicon Valley. It's a remarkable achievement. The firm only came to life five years ago, and its founders didn't have the most sparkling of business track records. Yes, they made plenty of money off things like Netscape and Opsware, but the products and companies failed to live up to their potential. (Bloomberg LP, which owns Bloomberg Businessweek, is an investor in Andreessen Horowitz.)
What helped the firm elevate its position so quickly was Andreessen's ability to get in the public eye and pitch the idea that he was up to something different. Unlike established venture firms such as Kleiner Perkins Caufield & Byers and Sequoia, which let the press come to them, Andreessen Horowitz has gone on the offensive, pitching stories about its startups, leaking news to reporters, and planting itself right in the middle of the technology news churn. Andreessen Horowitz also built a suite of services for its portfolio companies, ranging from marketing help to engineering aid. Its competitors have tried this, too, but not to the extent Andreessen Horowitz has, and now find themselves scrambling to catch up.
Lately, though, you have to wonder if all this has gotten to Andreessen's rather spectacular head. At the start of this year, his Twitter account awoke from a lengthy hibernation and veered to annoying-drunk-guy-at-the-bar mode. You've heard of mansplaining—the male tendency to hold forth in the belief that they know what they're talking about because, you know, they're men. Well, Andreessen has become the techsplainer.
He's issued 20,300 tweets through the first half of this year, or about 100 tweets per day. Andreessen has pioneered new tweeting art forms. He's the master of what's known as a tweetstorm, in which Andreessen prefaces a tweet with a "1/," which is to let you know that a series of notes on a similar topic are coming. He usually seems to run out of steam at 12/ or 13/. There are at least five websites now dedicated to collecting and archiving Andreessen's tweetstorms.
These streams of consciousness, which are mostly rabid celebrations of technology, have earned both praise and ridicule. They might talk about artificial intelligence, robotics, economics, or creativity. One recent episode ruminated on the idea that technology imbues humans with superpowers. "8/Threshing machines, combines, and tractors = superpower to grow far more food than we could by hand."
You'll often see technology reporters (I'm guilty here), well-known businesspeople, and intellectuals jump into the fray and egg on Andreessen. Others such as Valleywag, Slate, and the Awl, though, have seized Andreessen's tweet episodes as being tone deaf and absurd and part of Silicon Valley's growing god complex. Valleywag's Sam Biddle wrote, "The scariest thing here isn't that Andreessen has such a poor grasp on the history and economics, or his flatly counter-factual statements: or his strawman of people who 'oppose innovation.' It's that so many people are out there slurping it up. It's that a tweet asking us to marvel at refrigerators in 2014 is met with applause. It's that this industry, you can be more wrong than ever, and more influential than ever."
Andreessen's tweetstorms can lack finesse and have about zero recognition of how tedious the rest of the world is starting to find the techno-utopianism spouted ad nauseam by Silicon Valley. And Balaji Srinivasan, a new partner at Andreessen Horowitz, sometimes tweets right along with Andreessen. Srinivasan is even more reflective of the Valley's messianic, tech-will-liberate-us-all complex. A sample: "Increased productivity therefore leads directly to increased individual independence. Similar to yeoman period before ubiquitous wage labor."
Andreessen can be very funny and is able to poke fun at himself. He'll retweet others who tease him and address articles that take him to task directly. Perhaps we should be thankful that one of Silicon Valley's more colorful personalities has decided to embrace this outlet and has the courage to speak openly. Yet the backlash against Silicon Valley is well and truly on, and Andreessen risks turning his firm into a primary target.
Alex Payne, a programmer and former startup exec, recently wrote an open letter to Andreessen about one of his tweetstorms championing robots. "You seem to think everyone's worried about robots," Payne wrote. "But what everyone's worried about is you, Marc. Not just you, but people like you. Robots aren't at the levers of financial and political influence today, but folks like you sure are. People are scared of so much wealth and control being in so few hands."
"I am a true believer," Andreessen says, when I spoke to him about the mixed response to his tweetstorms. He's deleted a tweet or two that "went too far," because, he says, he wants to remain inclusive. But he offers no apologies. "I think we have a fantastic story to tell out here. I don't think the negative story should go unchallenged."
As Andreessen points out, the story promoted by the media 25 or so years ago was that Japan would crush the U.S.'s technology industry. A decade ago, it was that we were offshoring too many jobs. More recently, innovation was dead, and Silicon Valley could only churn out flimsy apps. Now, all of a sudden, people are afraid of the technology industry's power and that Silicon Valley might just pull off robots and artificial intelligence in a big way. "The irony is that the sentiment has flipped 180," Andreessen says. "There is no point in the middle."
Andreessen says he doesn't care if Payne or other entrepreneurs start slagging him off. His tweetstorms are designed to attract the other true believers, and there are plenty of them around. "This is running 1,000 to 1 in favor of what we are doing," he says.
Before it's here, it's on the Bloomberg Terminal.
LEARN MORE