House's Don Young Admonished by Ethics Panel Over Gifts
Derek Wallbank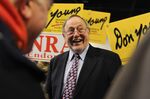 The U.S. House ethics panel ordered Representative Don Young of Alaska to repay $59,000 in impermissible gifts including hunting and golfing trips, flights in private planes and $434 Le Chameau boots.
The House Ethics Committee issued a letter of reproval to Young, a Republican who has served in the House since 1973, "regarding his conduct with respect to the trips and gifts that were not permissible and, more troubling, his misuse of campaign funds for personal purposes."
He received the gifts from 2001 to 2013, the panel said. During the first six years of that period, Young was chairman of the House Transportation and Infrastructure Committee that authorizes funding for highways, railroads, ports and pipelines.
Young said he accepted the panel's findings and regretted the "oversights identified." He has repaid the gifts, he wrote in a June 2 letter to the investigative subcommittee.
He said in an e-mailed statement yesterday that "there were a number of instances where I failed to exercise due care in complying with the House's Code of Conduct and for that I apologize." He said, as the committee indicated in its report, "I never 'made any knowingly false statements to government officials' nor did I act 'corruptly or in bad faith.'"
In its 59-page report, the ethics investigative subcommittee said that Young on multiple occasions hunted on private game ranches with people seeking projects to be included in bills before his committee, often traveling on their private planes to get there.
Panel's Findings
The panel found several instances of costs Young should have paid that were instead billed to the hosts of fact-finding trips or to Young's campaign, though no campaign-related activity took place.
On other occasions, the values of gifts were reported below a reasonable market level to make them appear permissible under House rules, the panel said.
The ethics committee's letter amounts to a "non-penalty," said Melanie Sloan, executive director of Citizens for Responsibility and Ethics in Washington, in a statement on the group's website.
After making its findings, the panel "did nothing other than issue a letter saying, in effect, 'bad congressman,'" Sloan said. "Not exactly the sort of strong action that will send shivers down the spines of corrupt lawmakers anywhere."
Before it's here, it's on the Bloomberg Terminal.
LEARN MORE