Hong Kong's Most Dangerous Man Wants People to Vote
By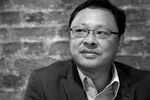 Benny Tai, a soft-spoken law professor at the University of Hong Kong, is the man behind Occupy Central with Love and Peace, a pro-democracy movement that is threatening to stage civil disobedience in the streets of Hong Kong's financial district. That, as fellow activist Edward Chin joked as he introduced Tai at a media briefing yesterday, makes the professor "the most dangerous man in town."
As it organizes an election of its own in Hong Kong that begins today, Tai's pro-democracy campaign is entering its most dangerous stage yet. "The movement now has reached a critical point," Tai told reporters. Critics have denounced Tai and his fellow activists, saying Occupy Central will lead to chaos in the center of Hong Kong. The group has also had to contend with cyber sabotage, following a hacking incident that targeted Occupy Central's website. The campaign, Tai said, "has been under a wave of attack."
Occupy Central isn't staging any sit-ins just yet. Instead, it is asking people to vote. Tai's group is organizing an unofficial citywide referendum that will last until June 29 to weigh public opinion on how to choose Hong Kong's next leaders. Since the city's return to Chinese rule in 1997, a small pro-Beijing committee has selected the chief executive, but China has promised some form of universal suffrage for the next election in 2017. The question is, what does universal suffrage mean? The pro-China side wants a screening process, with a committee that vets candidates first before allowing ordinary voters to decide. Tai and his fellow Occupy Central activists reject that, calling for "public nomination" of candidates so the Chinese government doesn't have a veto.
At some point, Tai says the movement may follow through on the threat in its name and occupy Central, where most of Hong Kong's top banks and other financial institutions (as well as Bloomberg) have their offices. Many companies are already taking no chances, developing plans in case demonstrators block the streets and prevent employees from getting to work.
While Tai has tried to play down concerns about demonstrations, his critics warn of bedlam in the streets. Once a large-scale demonstration starts, Occupy Central's organizers "may not be able to keep it under control," Hong Kong's Secretary for Security Lai Tung Kwok wrote in China Daily on June 12. "Radicals may hijack the movement and transform peaceful public protest to violent protest." An anti-Occupy group, borrowing a phrase from Richard Nixon, is arguing it represents the Hong Kong people in the silent majority who oppose Tai's tactics. Occupy Central's measures "go against the fundamental values of Hong Kong and her people," Silent Majority for HK says on its website. Michael DeGolyer, a prominent professor of government and international studies at Hong Kong Baptist University, has also criticized Occupy Central, saying in a China Daily op-ed today that the threat to blockade the financial district "is not civil disobedience. It is uncivil coercion."
For now, Tai says the movement is willing to wait and see what sort of proposal the government makes before making the decision to launch a mass protest campaign. Instead, he's calling on Hong Kong people to turn out and vote in his group's referendum. To kick off the unofficial election, Tai's group is organizing a rally today that will feature Anson Chan, the former No. 2 in the local government, leading everyone in singing the movement's anthem, Do You Hear the People Sing, the rousing finale of Les Mis. Hong Kong people should not "remain silent," Chan told reporters yesterday. "We can send a very, very strong message to Beijing."
As for Tai, at yesterday's briefing he was looking on the bright side. Given all the attacks Occupy Central has endured lately, he said, "we may be able to get more sympathy."
Before it's here, it's on the Bloomberg Terminal.
LEARN MORE