Coming Soon: A Maserati Dealership Near You
by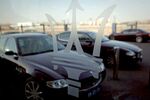 Maserati is finding amore with American car buyers. The maker of sporty luxury sedans, owned by Italy's Fiat, is opening U.S. dealerships at a rate of more than one a week, as sales hit new records in its biggest market.
Maserati plans to have 120 U.S. dealerships by the end of this year, up from the current 83, a spokeswoman says. Worldwide, the company expects to have 500 outlets by next year, up from 250 in 2011. "You need them to support the growth," Maserati Chief Executive Harald Wester told Bloomberg Television on June 19 at an exhibit in Modena, Italy, to celebrate the carmaker's 100th anniversary.
Some 1,114 cars rolled out of Maserati's North American dealerships during May, a 400 percent increase over May 2013, the company says. Buyers are snapping up the latest Quattroporte model, which starts at around $102,500, as well as the newly launched Ghibli, which was featured in a memorable Super Bowl TV ad. It has a somewhat more-affordable $66,900 base price that's drawing younger drivers.
Maserati deliveries worldwide are on track to reach 15,400 during the first six months of this year, equaling the full-year figure for 2013. The U.S. accounts for about one-third of total sales, Wester said.
After launching the Ghibli and the sixth generation of the Quattroporte last fall, Maserati this year will introduce an SUV dubbed the Levante. By 2016 it's likely to expand its lineup further with a high-end sportscar, the Alfieri, based on a prototype shown at last spring's Geneva auto show. "Maserati is definitely moving in the right direction," Georges Dieng, a Paris-based analyst with Natixis, tells Bloomberg News.
Fiat Chief Executive Sergio Marchionne said this week that the company plans to sell holdings valued at about €602 million ($820 million) to finance expansion of Maserati and its other upscale brands.
Before it's here, it's on the Bloomberg Terminal.
LEARN MORE