China Prepares for Possible Iraq Evacuation
By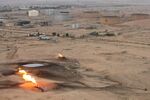 China, the biggest foreign investor in Iraq, is preparing for a possible evacuation, as the crisis deepens, of some of the more than 10,000 Chinese working there.
"China hopes that the Iraqi side can take concrete measures to ensure the security of Chinese enterprises and personnel," said Foreign Ministry spokesperson Hua Chunying yesterday, noting that most Chinese are in still "relatively safe" areas. "We will assist the small number in unsafe parts to be evacuated to safe places as soon as possible," she said, speaking at a press briefing on June 19 in Beijing.
China's embassy has asked Iraqi officials "to provide convenience and security guarantees" for Chinese citizens who need to leave Iraq, Hua said. Her government is monitoring the situation and will "take measures accordingly to ensure the safety and legitimate rights and interests of the Chinese employees."
At least 15 Chinese companies are doing business in Iraq, mainly in energy but also telecommunications and construction. The majority of them are located in the southern part of the country, where most of the oil fields are, and not close to the fighting.
"Most Chinese workers have gone to work as usual. But if insurgents begin to attack Baghdad, we will pull out of the country immediately," said one employee from China National Offshore Oil's Maysan oil field, reported the Global Times yesterday. Any "attack on Baghdad will likely cause government functions to collapse. By that time, police, security guards and armed civilians would all fall into chaos, leaving no place in the country safe."
Meanwhile, a representative from PetroChina, Iraq's biggest single investor, told the Global Times that the Chinese company had prepared "contingency plans" but that production was continuing as of Wednesday. "Some Chinese nationals in the north were evacuated, but our production, which is mainly in southern Iraq, remains unaffected."
Other foreign oil and gas companies have already started moving employees out of Iraq. Exxon Mobil has evacuated some workers from the West Qurna oil field, according to a person familiar with the company's Iraq operations, Bloomberg News reported on June 19. Both BP and Malaysia's Petronas have evacuated nonessential workers in Iraq, the companies said. Meanwhile, Royal Dutch Shell hasn't begun moving staff out but is ready to do so, a company official said.
Before it's here, it's on the Bloomberg Terminal.
LEARN MORE