AbbVie Said to Consider New Bid After Shire Rejects Offer
David Welch, Matthew Campbell and Simeon Bennett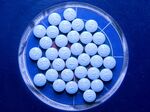 AbbVie Inc. is considering raising its takeover bid for Shire Plc a fourth time after the European drugmaker rejected its latest offer for about $46.5 billion, said two people with knowledge of the matter.
The U.S.-based company is also weighing whether to present its case directly to Shire shareholders, the people said, asking not to be named because the talks are private. A takeover would allow AbbVie access to Shire's growing stable of treatments for rare diseases and may allow it to redomicile in a country with a much lower tax rate than the U.S.
The offer of about 46.11 pounds a share undervalues Shire, the company said in a statement yesterday after its board unanimously rejected the approach. No talks are occurring and there can be no certainty a new offer will be made, Chicago-based AbbVie said in a separate statement.
"AbbVie will likely be back but may not be able to pay much more," said Ronny Gal, senior analyst with Sanford Bernstein & Co. in New York, in note to clients. "This sounds like a fair offer and we are surprised that Shire does not seem interested in engaging with AbbVie."
Shares in Shire, a specialty drugmaker, surged to a record after the bid, which was 23 percent higher than its June 19 closing price. Cross-border deals are accelerating as U.S. companies seek lower taxes and ways to spend almost $2 trillion protected from U.S. taxes in overseas cash. AbbVie's bid is the first public admission of interest after years of takeover speculation on Shire.
'Nice Bump'
"It will take a pretty nice bump on that offer to get Shire to move," said Jean-François Comte, managing partner at Lutetia Capital, an event-driven hedge fund in Paris who manages $186 million, including Shire stock.
AbbVie management believes that Shire shareholders will pressure the company to examine a bid and are considering a bump in their offer as early as next week, the people said. AbbVie also plans to make a presentation on the benefits of a deal to generate interest from shareholders and pressure management, the people with knowledge of the matter said.
AbbVie spokeswoman Jennifer Smoter did not immediately return a call seeking comment. A representative for Shire declined to comment beyond today's statement.
The board vote against the AbbVie bid was unanimous, the company said.
The "offer doesn't look attractive to us at that price," said Navid Malik, an analyst at Cenkos Securities in London. "It lowballs the growth that Shire is experiencing. It's one of the fastest-growing pharmaceutical companies in the world."
Tax Burden
U.S. companies have been looking to buy rivals in the U.K. and other European countries with lower tax rates to decrease their tax burden to the federal government. The companies are taxed on earnings from their overseas operations, and changing the tax domicile would move overseas earnings and cash out of the reach of the US Internal Revenue Service.
Shire, the maker of Vyvanse for attention deficit hyperactivity disorder, is the second European drugmaker to draw acquisition interest this week. On June 16, Medtronic Inc. agreed to buy Covidien Plc, also a maker of rare disease medicines, for $42.9 billion.
In addition to a more favorable tax rate, buying Shire offers access to the fast-growing market for treatments against rare diseases. This would help AbbVie, split off last year from Abbott Laboratories, branch out beyond its top drug, the arthritis medicine Humira, which generated 57 percent of its 2013 sales, according to data compiled by Bloomberg.
Pfizer, Bristol-Myers
Other U.S. companies that may be interested in Shire's stable of rare-disease products could include Pfizer Inc., which failed this year in a $117 billion bid for London-based AstraZeneca Plc, and Bristol-Myers Squibb Co.
While Shire is domiciled in Dublin for tax purposes, its main executive offices are in Basingstoke, England and its chief executive officer, Flemming Ornskov, works in Lexington, Massachusetts. AbbVie's plan to move its tax domicile out of the U.S., a so-called tax inversion, raises concern about whether it will be able to complete the deal, Shire said.
"Shire has a long track record of delivering for shareholders and addressing unmet patient needs," Chairman Susan Kilsby said in the statement. "Our high-performing management team and focused strategy are producing even stronger results, reflected in our recent top-line growth and increased profitability."
Stock Doubled
Shire's stock has doubled in the last year, and today the company said it expects to more than double its 2013 product sales to $10 billion by 2020.
AbbVie's first cash-and-stock offer to Shire was 39.50 pounds a share, and its latest bid increased to 46.26 pounds a share, AbbVie said in its statement.
Not including the AbbVie offer, there were deals proposed or completed worth $260 billion in the second quarter, according to data compiled by Bloomberg, five times more than any quarter since at least 2009. Pfizer's bid for AstraZeneca Plc was the largest proposed deal in industry history.
Before it's here, it's on the Bloomberg Terminal.
LEARN MORE