business
Why Elon Musk Is Doubling Down on Solar Power
By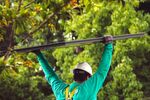 Making solar panels is a huge mistake. That's been the big story of the solar industry over the past few years.
A glut of solar panel makers flooded the market with their products, forcing prices of solar panels down to crippling levels. The biggest culprit in all of this was China, which twisted the economics of solar panels through its backing of a multitude of firms. Some solar panel makers have muddled along through the dark times, while others such as China's onetime giant Suntech Power been left trying to placate furious investors and navigate bankruptcy.
One of the companies that actually benefited from this mess was SolarCity, an installer of residential and commercial solar panels. It bought the panels on the cheap and leased them to consumers, emerging as a major alternative-energy provider in the U.S. Its market share equals that of the next 10 installers combined, and SolarCity's shares are up more than sixfold since its initial public offering in 2013.
So why then is this company threatening to mess everything up and get into the solar manufacturing game?
Earlier this week, SolarCity revealed its plans to buy Silevo, a maker of solar cell technology based in Silicon Valley. Silevo has what's been billed as a big technology advance: solar cells that boast higher efficiency and lower costs than existing technology. According to Peter Rive, co-founder and chief technology officer at SolarCity, most cells today are 14.5 percent efficient at turning light into energy; Silevo's cells are 18.5 percent efficient and could be 24 percent efficient with improved manufacturing techniques. SolarCity plans to begin immediate work expanding a New York factory that Silevo had started so that it can produce 1 gigawatt of power within two years.
Peter Rive started SolarCity in 2006 along with his brother and CEO Lyndon Rive. Their cousin is SolarCity's chairman and largest shareholder: Elon Musk. The Tesla Motors founder and chief executive helped conceive of the idea for the solar company while driving with his family to Burning Man, and SolarCity has big ties to the electric-auto maker. Tesla supplies batteries and battery pack technology that SolarCity has turned into storage systems for its customers.
SolarCity had been quite happy benefiting from the low, low price of solar panels, but the company reached a point where it made a lot of sense to consider manufacturing the panels in-house. "We started thinking about it seriously last year," says Peter Rive. "We are currently installing more solar than most of the companies are manufacturing. If we do the manufacturing ourselves and take advantage of some different technology, our costs will be lower—and this business has always been about lowering the costs." SolarCity will consume all of the solar panels it makes as it tries to keep up with its expanding business.
SolarCity's big idea was to simplify the solar-installation process. It was one of the first companies to take on the financing, purchasing, and installation of solar panels so that customers could get it all from one place. Consumers will typically pay nothing or very little upfront for SolarCity's panels. Instead, they lease the equipment over about 20 years.
The acquisition of Silevo certainly didn't spook SolarCity's investors. Its share price shot up more than 17 percent after the deal was announced.
It's been fashionable to ridicule investors who bought into the green-technology boom. The venture capital firm Kleiner Perkins Caufield & Byers and its most famous investor, John Doerr, have become the poster children for misdirected green funds. (Notoriously, Kleiner missed out on the chance to invest in Tesla and opted to back Fisker Automotive instead.) The solar cell maker Solyndra is one of Silicon Valley's biggest flops of the decade. And 60 Minutes took special delight recently in ridiculing the green investments of the venture capitalist Vinod Khosla. Much of this has been fair game.
Musk, however, has managed to turn his green investments into a multibillion-dollar empire. He remains the largest shareholder in Tesla, which is valued at $28 billion. He already has a giant car factory in Silicon Valley and is building a pair of giant battery factories in the U.S.—and now has a solar-panel factory, too. Tesla and SolarCity employ more than 6,000 people each. Tesla has built a nationwide network of fast-charging stations for its customers, and those stations use solar panels to provide free charging.
Where other people have pulled back on green technology, Musk has doubled down and raised billions of dollars to fund his battery building efforts and Tesla's manufacturing capabilities. Now he's doing the same in the solar arena, spending $200 million on Silevo and more to build the factory in Buffalo.
Before it's here, it's on the Bloomberg Terminal.
LEARN MORE