When Minimum Wage Laws Count Small Franchisees as Big Business
by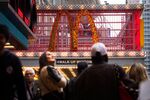 The recent movement in Seattle and other cities to raise the minimum wage has franchise owners rankled. It's not just that they'll have to pay workers as much as $15 an hour. It's that franchise business owners won't get the same grace period to raise wages that other small businesses will.
Imagine a block with three stores: A corporate-owned Starbucks, a McDonald's franchise, and a local pizza shop. The Seattle law treats the Starbucks and McDonald's the same—they have to pay $15 an hour by 2017 (or 2018, if they provide health benefits)—but gives the pizzeria until 2021 to absorb the hike. Franchises, which license a brand and share revenue with their corporate headquarters but are owned independently, believe they're more like the pizza shop than the Starbucks.
Many of the workers in food and service industries that would be affected by the minimum wage are employed by franchise businesses. It's a sore subject that's now spilling into the courts. Last week, the International Franchise Association, a trade group for the industry, filed a lawsuit in U.S. District Court in Seattle seeking an injunction that would prevent the city's new minimum wage law from taking effect. This week, IFA Chief Executive Steve Caldeira sent a letter to the Chicago City Council and Mayor Rahm Emanuel intimating that another lawsuit may be in the offing if a proposal to raise the minimum wage in Chicago passes.
In each case, the franchise industry's beef is that the new law treats individual franchisees as part of the national chain and requires the business owners to raise wages faster than independent small businesses.
On a practical level, those provisions may hurt franchisees by forcing them to raise prices to make up for higher wages, putting them at a competitive disadvantage to independent businesses that can increase wages at a slower pace. Lumping franchisees in with their corporate overlords is also painful emotionally. "Most of them consider themselves at least quasi-entrepreneurs," says John Gordon, principal at Pacific Management Consulting Group, which focuses on the restaurant industry.
And they're often not raking in giant profits, as industry consultant Joel Libava wrote in a recent blog post. He calls the average franchisee a "local resident who's running a sandwich shop with a few employees and is working 6-7 days a week," earning between $50,000 and $75,000 a year.
Seattle Mayor Ed Murray is unsympathetic to the argument. "Franchises have resources that a small business in the Rainier Valley or a small sandwich shop on Capitol Hill do not have," he said in a statement after the IFA filed suit—resources that include supply chains and advertising provided by the corporate entity.
That fight may unite franchisees and franchisors—known to clash over corporate policies—because both are invested in defining franchisees as independent business owners.
Before it's here, it's on the Bloomberg Terminal.
LEARN MORE