Driver in Tracy Morgan Crash Was on Duty Almost 14 Hours
Jeff Plungis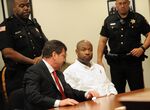 The Wal-Mart Stores Inc. driver whose truck crashed into a van carrying actor Tracy Morgan was in the 14th hour of his work shift, just short of the maximum allowed by U.S. regulations, preliminary findings show.
The driver, identified as 35-year-old Kevin Roper, spent June 6 making deliveries and pickups throughout New Jersey, Delaware and Pennsylvania, the National Transportation Safety Board said in a report today. Roper's work shift began at 11:22 a.m. at a Wal-Mart facility in Smyrna, Delaware.
Roper was still on the clock the next day at 12:20 a.m., when he left a Wal-Mart facility near Bristol, Pennsylvania, for his next delivery to Perth Amboy, New Jersey, the safety board said. The crash occurred 30 minutes later. The truck's electronic log for the shift showed Roper had driven 9 hours and 37 minutes, and had been on duty for 13 hours and 32 minutes, the NTSB said.
Federal regulations aimed at reducing fatigue limit truck drivers to 11 hours of driving and 14 hours of on-duty time each day. There are also limits on the number of hours of driving per week, which the Federal Motor Carrier Safety Administration tightened last year. The Senate is considering reversing part of that regulation.
Driver's Commute
The NTSB will be looking at Roper's pre-shift commute in its investigation, said a spokeswoman, Kelly Nantel. Roper lives in Jonesboro, Georgia -- about 750 miles from where he began his work shift. The safety board will examine his actions in the 72 hours before the crash, including how much he rested and what he did while off-duty, Nantel said.
"We're very interested in learning more about his commute and what impact it may have had on the crash," Nantel said.
Brooke Buchanan, a Wal-Mart spokeswoman, declined to comment on its driver's schedule, citing the pending investigation. The Bentonville, Arkansas-based company was operating within federal rules, she said.
The world's largest retailer apologized after the accident. It said it would work quickly to understand what happened and fully cooperate with law enforcement agencies in their investigations.
The 2011 Peterbilt tractor and semi-trailer combination was in the center lane of the New Jersey Turnpike as it approached slowing traffic near a construction site at 12:54 a.m., the NTSB said. The truck's electronic-control module shows it was traveling at 65 miles per hour (105 kilometers) for the 60 seconds preceding the collision. The posted speed limit in the area was 45 mph because of construction, according to the report.
23 Minutes
Roper was within 23 minutes of his service limits at the time of the crash and couldn't have reached his destination without speeding, the International Brotherhood of Teamsters union and two advocacy groups, Citizens for Reliable and Safe Highways and Advocates for Highway and Auto Safety, said in a statement today.
The groups are lobbying to amend a transportation appropriations bill pending in the Senate that the Transportation Department says would enable 82-hour work weeks. The trucking industry has pushed to relax parts of a regulation enacted last year that force extended rest periods, including two consecutive nights of rest after reaching maximum weekly time limits.
'Beyond Limits'
"The NTSB's preliminary findings in this case clearly show that truck drivers are pushing beyond the limits of the current hours of service rules," Teamsters General President James Hoffa said in a statement today. "In light of these findings, it would be irresponsible to even consider rolling back hours-of-service rules and opening the door to increased driver fatigue."
The New Jersey crash demolished a limousine van carrying actor and comedian Morgan. The van spun and flipped over, killing one of the passengers, comedian James McNair, 62. Morgan, 45, and two others were critically injured. Six other vehicles carrying 16 people were involved in the subsequent impacts, although none of them were hospitalized.
The 51-mile drive between Bristol and Perth Amboy should take 56 minutes, according to Google Maps.
Wal-Mart maintains one of the largest private truck fleets in the U.S., with more than 7,200 drivers, 6,000 tractors and 53,500 trailers. The world's largest retailer has 42 regional distribution centers with more than 1 million square feet each, according to its website.
According to the Federal Motor Carrier Safety Administration, Wal-Mart is in the top 1 percent of the U.S. trucking industry for compliance with U.S. hours-of-service rules. It's in the best 3 percent for unsafe driving and the top 10 percent for driver fitness.
Before it's here, it's on the Bloomberg Terminal.
LEARN MORE